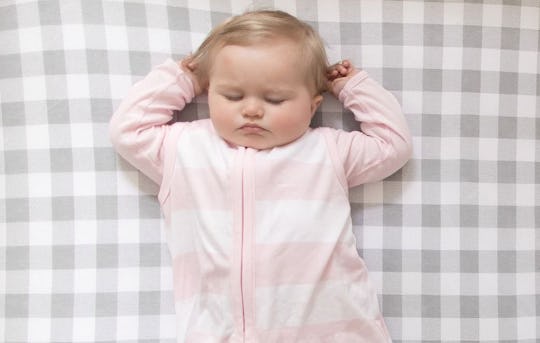 Amazon
These Baby Sleepsacks Are Safe, Cozy, & Parent-Approved — & All On Amazon
Creating a safe sleep environment for your little one means one less thing to worry about as a parent. When it comes to choosing bedding or sleepwear options for your baby or toddler, the American Academy of Pediatrics (AAP) recommends babies younger than 12 months sleep with only a tightly fitted sheet over their mattress— no blankets, pillows, or toys should be in the crib while they sleep. So if your baby is still too young to cozy up with a blanket, opting to use one of the best sleep sacks is a reliable alternative.
A sleep sack, which is also referred to as a wearable blanket, is a sleeping bag that usually zips open and closed and has arm holes. When you're ready to shop for one for your baby, the best way to narrow down your options is to keep the general outside temperature in mind.
Thankfully, there's a helpful rating system in place to help parents identify just how warm an item will keep your baby. A Thermal Overall Grade (TOG) score is a measurement of a fabric's level of insulation. The higher the rating, the warmer the fabric is. Sleep sacks range from a TOG of 0.5 to 2.5.
After that, age is another factor to consider when choosing a sleep sack
Newborns & younger babies: A sleep sack swaddle combo is ideal for younger babies because it has adjustable flaps that allow for your baby's arms to be free or still tucked in.
Older babies: Once your child starts to roll over on their own, you'll want to consider forgoing swaddling and instead look for a traditional wearable blanket that gives your child more space to flex their legs and the freedom to use their arms.
Toddlers: Although it's technically safe for children 12 months to sleep with a blanket, many toddlers (mine included!) often move around so much that bedding ends up in a pile at the foot of their crib. A toddler-sized sleep sack is great because it can't be kicked off and some even have foot holes so your little one can still easily walk around in it.
Whether you're looking for a winter sleep sack for your newborn or lightweight one for your toddler, I've gathered a list of the best sleep sacks for any age or climate below.