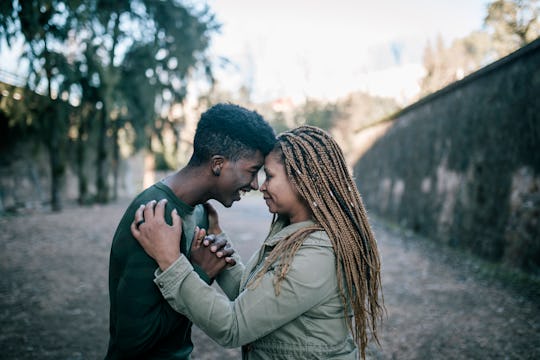 Westend61/Westend61/Getty Images
The 8 Best Things To Say When Your Kid Comes Out To You, According To Experts
Anyone with even the faintest memory of adolescence can likely remember how terrifying it was to let your mom and dad in on a secret you'd been keeping (from them, at least). Even so, the fear and anxiety a kid feels when they open up to their families about being gay is unimaginable to anyone who hasn't had to come out themselves. The reaction a child gets in this situation can have a profound and lasting impact, so what are the best things to say when your child comes out to you?
No matter how surprised they are, parents should "show empathy, support, and acceptance" during that initial conversation with their child, licensed clinical social worker Kathryn Smerling, Ph.D., tells Romper. What does the ideal response look like? It depends on your unique situation but, in general, it will leave your child feeling secure, supported, and like a weight has been lifted from their shoulders.
A child's coming out can give their parent a "deeper understanding of who they are," licensed professional counselor Leigh McInnis tells Romper, and serves as an opportunity for the two of them to "build a foundation for meaningful conversations and a stronger relationship."
And while it's natural to feel a spectrum of emotions when your kid comes out to you, this is not the time to bring up any worries that you might have.
"Reinforce the parent-child boundary by allowing them to voice questions, concerns, and fears without unloading yours onto them," says McInnis. She notes that you should "have other supports in your life," such as a friend, partner, or counselor "with whom you can discuss your own big feelings."
Let the following expert suggestions for what to say when your kid comes out inform and inspire your own responses, and read all the books and articles you can on the subject to educate yourself so that you can be an ally to your LBGTQ child.