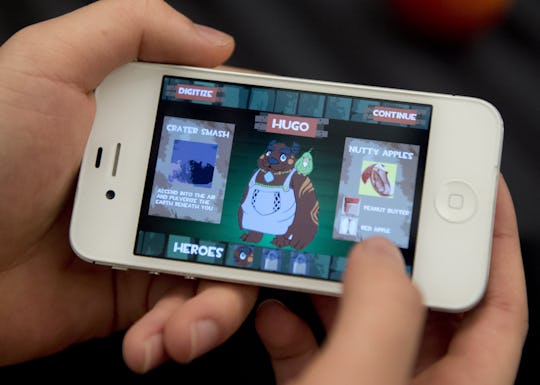 SAUL LOEB/AFP/Getty Images
The AAP Has Lifted Its "No Screens Under 2" Rule, But Here's What That Really Means
Screen time for children is something not all parents agree on — while some are staunchly screen-free, others are happy to let their little ones watch TV or play games on tablets, and the rest fall somewhere in between. Despite that variation though, the general consensus among experts has long been that screen time for kids is a bad idea, especially for infants and young children. Since 1999, the American Academy of Pediatrics has recommended zero screen time for all children under 2 years of age, but according to NPR, its updated screen time guidelines take a more relaxed approach. The AAP has lifted its "no screens under 2" rule to reflect research suggesting screen time is not entirely without benefit for young children. But the revised guidelines definitely aren't without some really important caveats.
According to the new recommendations, although it's possible for children as young as 18 months to learn some language skills from educational programming, it's all dependent on whether a parent or caregiver is there to repeat the words and interact with them. In other words, some screen time might not be a bad thing for young children, but only if it's in moderation — and only if they aren't watching it alone (the "Netflix babysitter" is still a no-no).
The change, the AAP's Dr. Ari Brown told Parents, comes about in an effort to try to support parents, who are raising their children in a digital environment that largely didn't exist in the same way when the original guidelines were published. She explained,
We are here to help parents. We know the challenges and we want to be realistic in our approach. As a pediatrician and a mom, I have personally struggled with how to advise families (and my own family) with the explosion of technology as there are many benefits, but definitely some concerns.
That newer, more-realistic approach definitely seems to be needed: according to Science Daily, an 2015 AAP study found that more than half of children younger than one year of age had watched TV, more than one-third had "touched or scrolled a screen," and as many as 15 percent of infants had been exposed to apps or video games. The majority of parents reported that they used screen time as a distraction or for relaxation — while shopping or running errands, or to calm a child or put them to sleep — despite the guidelines advising them not to.
For parents of infants, the AAP still recommends that screen time be avoided as much as possible, and still adheres the guideline that children under 18 months of age be completely screen-free (the one exception is video chatting, which will surely please grandparents everywhere). Babies 18-24 months old can be introduced to digital media in very limited amounts, but parents should choose "high-quality programming, such as the content offered by Sesame Workshop and PBS," and should interact with their child to help them process what they are seeing.
For slightly older children, aged 2 to 5 years old, the AAP's recommendations are similar: high-quality programming, viewed in moderation (no more than one hour a day for this age group), also avoiding any solo screen time. The guidelines are more relaxed for children aged 6 and older, but the AAP still recommends that parents place limits on the amount of time spent on screens, and that they ensure screen time doesn't interfere with "sleep, physical activity and other behaviors essential to health."
Of course, these updated guidelines still might not make a huge difference given that many parents use TV and digital media to give themselves an often much-needed break. But UCLA's Dr. Yolanda Reid Chassiakos explained to CNN that screen time really does have an effect on children, especially infants. Chassiakos said,
The noise and activity of a screen are distracting for a child. Even if the baby isn't directly looking at the screen — for example, if a mother is nursing her child on the couch while watching TV — the baby can be overstimulated by the lights and sounds, which may cause distress and sleep problems.
The bottom line, it seems, is that, despite the new recommendations, the same message still applies: the less screen time a child has, the better, particularly when they're young.