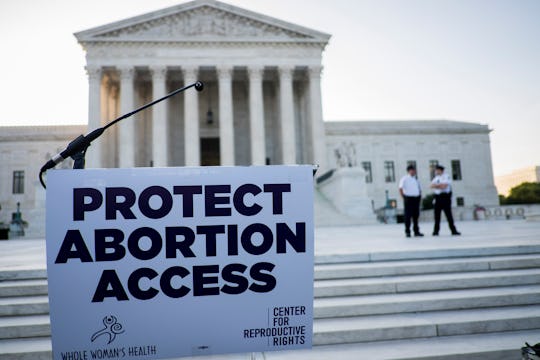 Pete Marovich/Getty Images News/Getty Images
CDC: The Number Of Abortions In The U.S. Has Reached A Record Low
Abortion remains a hot button issue in the United States, despite mounting research and advocacy that it's a simple and common medical procedure that everyone should have safe access to, according to Planned Parenthood. Still, it's often presented as a rampant problem that needs to be addressed. However, according to the Center for Disease Control and Prevention (CDC), the abortion rate in America has reached a record low, as Vox reported this week, and there's a very important reason why.
The CDC's new report, published on Nov. 22, found that the national abortion rate declined 26 percent between 2006 and 2015, which is the lowest level that "the government has on record" since Roe V. Wade went into effect 45 years ago, according to Vox. As noted in the CDC's report, abortions rates have been decreasing at "a slow yet steady pace" since reaching its highest levels in the 1980s.
Additionally, the CDC found that the abortion ratio — or the proportion of abortions to live births — also reached a record low, according to The Independent, which reported that it's decreased by 19 percent from 2006 to 2015.
These statistics are likely linked to improvements in reproductive health. Most notably, perhaps, is the increased access and use of better contraceptives in the United States.
In fact, as of July 2018, about 60 percent of women of reproductive age are using contraceptives, according to the Guttmacher Institute. Part of this is due to easier, wider, and more affordable access. For example, Vox reported that the 2012 Affordable Care Act's mandate that insurers cover "a wide array or birth controls," such as IUDS, which are 99 percent effective, according to Planned Parenthood.
What's more, a study from the Washington University School of Medicine found that providing free birth control reduced unplanned pregnancies and abortions.
Ultimately, as the CDC summarized in its report:
The data in this report can help program planners and policymakers identify groups of women with the highest rates of abortion. Unintended pregnancy is the major contributor to induced abortion. Increasing access to and use of effective contraception can reduce unintended pregnancies and further reduce the number of abortions performed in the United States.
Although the Supreme Court's famous decision in Roe v. Wade established a woman's legal right to an abortion decades ago, many can't access abortion services due to restrictive state laws, according to the Guttmacher Institute. And when abortions are restricted, it puts women's overall health and safety at risk, according to the Bixby Center for Global Reproductive Health.
Still, states continually attempt to pass legislation that would further restrict abortion access, such as Ohio's proposed "heartbeat" bill that would ban abortions once a fetal heartbeat is detected, as Cleveland.com reported.
It's important to note that, despite this decrease, abortions are still necessary and access to them needs to remain protected. Instead, this record low points to the need to keep on providing access to both safe abortions and contraceptives. Reproductive health and freedom is incredibly important and policymakers need to continue to ensure that people have just that.