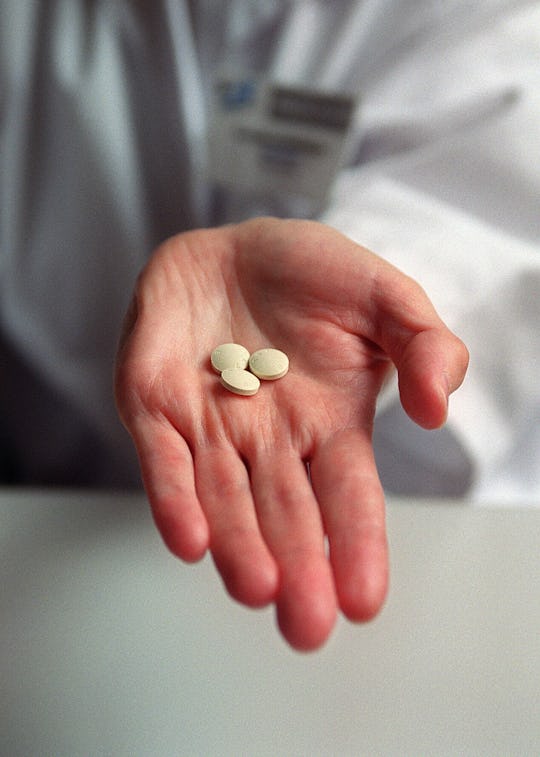 MANOOCHER DEGHATI/AFP/Getty Images
Here's How The ACLU Is Fighting To Expand Access To The Abortion Pill
It seems like every time you turn around, conservative lawmakers are doing what they can to chip away at women's reproductive freedom and bodily autonomy. On Tuesday, for example, a ban on abortion after 20 weeks of pregnancy passed in the House, bringing it that much closer to becoming law. But there are plenty of advocates, medical providers, and organizations — like the American Civil Liberties Union — working to protect women's rights to decide what to do with their own bodies. Case in point: The ACLU is fighting to expand abortion pill access.
It's a major step in the right direction that could ensure valid medical knowledge — and not anti-choice rhetoric — reaches laws and regulations that can literally change the course and the quality of a woman's life. On Tuesday — on behalf of three health care providers and a physician on a Hawaiian island that does not have even one abortion provider — the ACLU filed the lawsuit in a Hawaiian federal court. Those behind the lawsuit plan to challenge the U.S. Food and Drug Administration's (FDA) burdensome restrictions to access to the so-called abortion pill, according to the Associated Press.
Thee FDA's longstanding regulations on the drug, Mifeprex, stipulate that those who wish to end their pregnancies by taking it must get it from a medical facility and under the care of certified health care provider.
The FDA and its plaintiffs argue, quite simply, that these hurdles to accessing Mifeprex — which works only when a pregnancy has advanced no longer than 10 weeks — are unnecessarily restrictive and do not at all protect women's health or well-being.
In a statement announcing the lawsuit, Talcott Camp and Julia Kaye, both of the ACLU's Reproductive Freedom Project, blasted the restrictions to getting the pills, and called for it to be stocked in pharmacies and available by prescription:
Lacking any medical basis, they do not improve women's health. Rather, by delaying and blocking access to abortion care, they harm women's health.
In fact, the Associated Press reported that only 19 Mifeprex-related deaths have been reported to the FDA since the drug's approval in 2000, out of the 3 million women who have used it.
And, according to a 2016 statement, the American Congress of Obstetricians and Gynecologists (ACOG) considers the abortion pill to be a "safe, effective option." ACOG has also implored the FDA to relax its requirement that often stymy care, NPR reported.
While most medical professionals agree with ACOG, Dr. Donna Harrison, executive director of the American Association of Pro-life Obstetricians and Gynecologists, does not. "Is the pharmacist going to answer her call at 5 in the morning when she's suffering or needs some help? The pharmacist is not going to be there," she said in response to the ACLU's lawsuit, according to NPR. This argument comes off as a bit weak, however, when you consider that women are permitted to take the pill at home once they have procured it from their doctor.
And coupled with the fact that many medical providers can't stock the drug — perhaps for fear of anti-choice retribution or because other workers may object to it — it's clear that making it more accessible is not only logical, but critical.
But those intent on stripping away abortion rights aren't always motivated by facts. The 20-week ban on abortion that the House passed Tuesday, for example, is predicated on the idea that fetuses can feel pain when they reach that point, Vox reported. In fact, actual scientific research does not support that claim — at all.
Moving forward, for women and anyone who cares about women's reproductive freedom, this lawsuit is certainly one to watch.