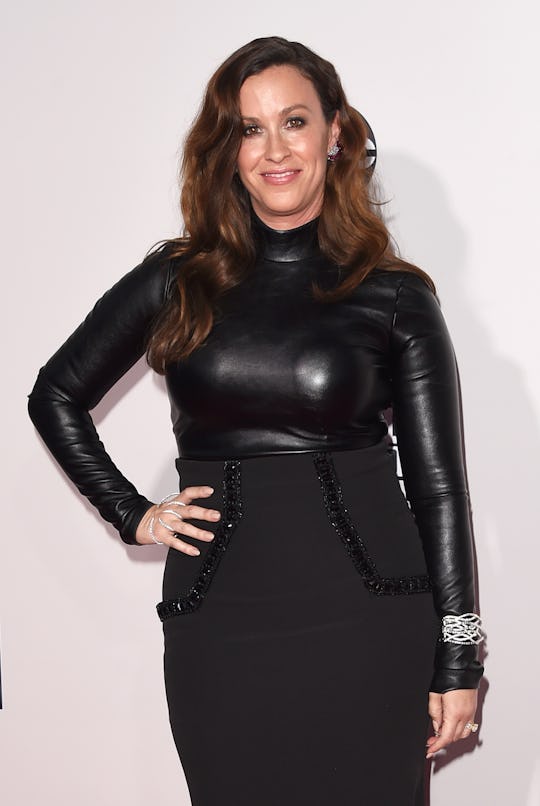 Jason Merritt/Getty
The Alanis Morissette Joke On 'Fuller House' Is Everything A '90s Girl Could Want
It had to happen right? Fuller House, Netflix's spin-off to the beloved Full House, makes plenty of references to iconic '90s movies, TV shows, and songs. I mean, that's sort of a required when you bring a show back from the greatest decade ever. But there was one reference that trumped all the others. Yes, my fellow alternative rock fans. There is an Alanis Mirossette joke on Fuller House, and it is everything you would want it to be. And maybe a little more if you're a huge fan of the '90s songstress.
In episode 12, "Save The Dates," Steve takes D.J. on a date in hopes of winning back his high school sweetheart. And, as every modern-day girl would want, the date is a '90s-themed. (If my boyfriend is reading this, please make a note.) When D.J. is finally dressed for the date, snap bracelet and all, Steve informs her that he has Alanis Morissette bumping in the car (As an aside, you don't bump Alanis — you emotionally rock out to her.) At which point, D.J. drops the best line of the episode, and possibly the series.
"You know who that song is really about. . . "
For those of you who don't quite get the reference, either because you've been living under a rock for the past three decades or because you were literally just born, D.J. is referring to Morissette's 1995 hit "You Oughta Know." If you haven't heard it, you should take a listen. And if you have, you should listen again for nostalgia's sake.
Still not in on the joke? OK, I'll explain. The reason D.J.'s line was so humorous is because it was rumored that "You Oughta Know" is about Dave Coulier, i.e Uncle Joey. And you know who started that rumor? Coulier himself. He and Morissette publicly dated in 1992, so people naturally assumed the song was about him. After being hounded by the press about the topic, Coulier told Buzzfeed that he just gave the people what they wanted.
"I was doing a red carpet somewhere and [the press] just wore me down and everybody wanted to know so I said, 'Yeah, all right, I'm the guy. There I said it.,'" Coulier said. "So then it became a snowball effect of, "OH! So you are the guy!" The actor that he has also asked his ex if the song was actually about him, to which she said it could be or it could be about someone else.
Although we may never if Coulier is the guy Morissette went down on in a theatre. But it's nice to know that he and rest of the Full House cast can look back on it and laugh.