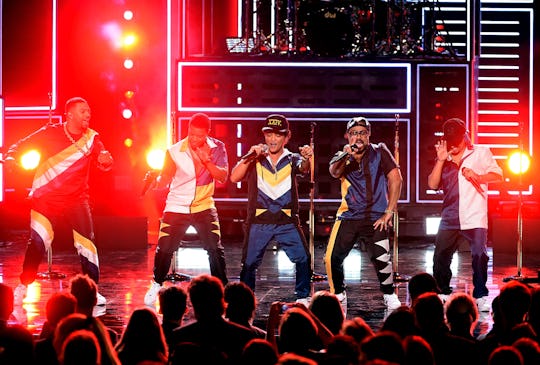 Kevin Winter/Getty Images Entertainment/Getty Images
The AMAs Audience Is Incredibly Awkward & Twitter Has A Lot To Say About It
While Bruno Mars graced the opening with his fly moves and artists like James Bay and Shawn Mendes have already turned in solid performances, the AMAs audience is incredibly awkward and Twitter is not letting it slide. Part of the problem is that the fan audience pit seems to be populated with a lot of teenage girls in prom dresses. The other problem is that cameras keep relentlessly cutting to gaggles of white girls dancing. Neither of those populations is known for their grace, and Twitter is having a lot of feelings about it.
But it's not just the dancing or the wardrobe that the audience is getting so very wrong. They're also literally scream-singing the wrong lyrics directly into the camera every time it pans out over the audience. And Twitter is, of course, picking up on that, too, and putting them on blast for it. Pro-tip, fans: if you don't know the words, just don't sing any! Try cheering and looking like you're having a good time. And definitely don't try to sing the words you don't know directly into the camera when it comes near you! It's one thing to get busted unwittingly. It's another to pretend like you know what you're doing.
As for the dancing, when cameras are capturing your every move for a nationally televised awards show, maybe keep it restricted to a manageable head bob and/or weave, but only if you're sure you can keep the beat! Leave the rest to the professionals on stage and the audience plants with a dance background specifically put in place by a casting agency to show off their moves.
It's unclear what exactly the wardrobe directive was to audience members, but it lacked the laid-back, effortless cool of the VMAs, and it didn't make a whole lot of sense to have formalwear front and center in a bumpin' audience pit. The bad high school dance dresses gave the whole thing a vibe reminiscent of a prom after-party on The OC, and not in the good way.
As far as the closeup shots of white girls only, those did seem to dissipate as the night wore on, hopefully because someone was monitoring Twitter in the control room. They managed to switch up the crowd, or at least shots of people, later on in the night and show more diverse revelers. Eventually, the crowd managed to redeem itself, thanks mostly to one woman who even managed to execute the correct lyrics to the rap break during twenty one pilots' performance of "Heathens"!