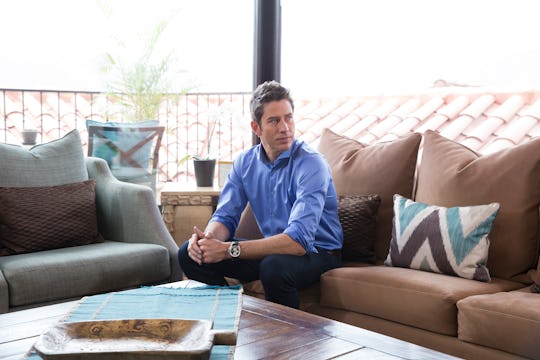 Paul Hebert/ABC
'SNL' Spoofed 'The Bachelor' Finale In A Must-See Skit
If you watched The Bachelor this season, then you will have experienced what might have actually been the most dramatic finale ever. And it looks like the Saturday Night Live writers found something awfully familiar about the whole situation. The Bachelor cold open on SNL this Saturday imagined Robert Mueller as Arie, having to finally break it to Becca that he's not going after Trump for collusion anymore, because he just sees a better future with obstruction. Basically it was a skit that all of America could identify with right now.
The sketch started almost exactly the same way the actual episode of The Bachelor finale did, with Chris Harrison introducing the footage of the dramatic break-up, warning audiences that it was going to be very heartbreaking and the clip was completely unedited. Cecily Strong appeared as Becca, talking to the cameras about how excited she was to see her Bachelor and just getting back to her real life. I was totally prepared for a straight up Bachelor sketch, and then they introduced a twist I never knew I needed. Kate McKinnon appeared as The Bachelor, Robert Mueller, and managed somehow to be both a perfect Mueller and a perfect Arie. She can truly do no wrong.
The sketch covered all of the highlights of the already iconic breakup. Mueller as Arie awkwardly set Becca down on the couch and complimented her new tattoo before launching right into the actual breakup. He admitted that he was just halfway in collusion, and he really wanted to to see where things went with obstruction. "So you're going to be halfway in with obstruction?" the sketch's Becca asked, just as Becca asked if Arie was also going to be halfway in with Lauren, who he left her for. McKinnon's pitch-perfect Mueller awkwardly said no. Becca asked then if everything that happened in the Seychelles was a lie, "No, the Seychelles were amazing," Mueller/Arie replied. Basically, this was the sketch I never knew I needed.
The show even managed to work in some of Arie's signature moves. Becca, for example, immediately hid in the bathroom to cry in peace after Arie broke up with her on camera, as did the Becca in the sketch. A few minutes after Arie/Mueller knocked on the door to weirdly ask, "hey, are you okay?" Becca emerged to ask angrily, "So that's it? He's just gonna be president?" to which Mueller said he didn't know how to answer that. The sketch even worked in Arie's catchphrase, "I love that," after Becca tearfully admitted that she "let her walls down," for him.
"So I have to wait two more years for him to be out of office?," Strong as Becca asked, echoing the thoughts of at least half of America. "Honestly, probably six," replied Arie/Mueller. Becca emitted a bleeped curse word and everyone at home simultaneously laughed and nodded in agreement. I didn't think it was possible for America to come together in support of Becca any more, but this sketch may have just done it. When asked if he had any good news for her, Mueller awkwardly asked, "Do you own American steel?" Sigh.
Mueller's investigation kicked off last June when the president unexpectedly fired FBI director James Comey amidst allegations that Trump colluded with Russia to interfere in the elections. Since many people were expecting Trump to get nailed for collusion, this sketch was one of the most on-point I've seen from the show this season. And the fact that SNL tied The Bachelor finale into it, made the skit all the more perfect.
Check out Romper's new video series, Romper's Doula Diaries:
Watch full episodes of Romper's Doula Diaries on Facebook Watch.