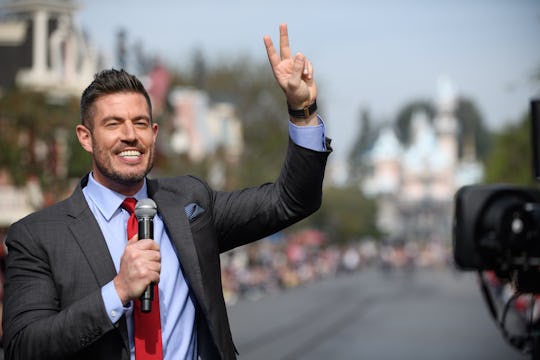 Handout/Getty Images Entertainment/Getty Images
'The Bachelor' Creators Have A New Dating Series In The Works & It Sounds Pretty Wild
As far as I'm concerned, there can never be enough reality television like The Bachelor, even though it rarely has anything to do with reality and is often totally cringeworthy. On Tuesday, ABC announced that The Bachelor creators have a new dating series in the works called The Proposal that's premiering this summer. And it includes everything good, bad, and ugly about the popular dating show franchise.
Mike Fleiss, the creative genius behind The Bachelor, seems to have really outdone himself this time. The dating competition will be hosted by former NFL quarterback and Season 5 Bachelor Jesse Palmer, according to a press release from the network. Each episode will be an hour-long and take a "pageant-style" format, with each of the 10 eligible daters competing for a mystery suitor.
Or "suitress," ABC confusingly offers, since it's not clear what the gender identity or sexual orientation of either the contestants or mystery suitor are. That sort of thing should matter when you're talking about everlasting love, but I'm sure the creators have it all figured out. Let's hope so, at least. Either way, they don't get to meet this mystery person until the very last episode.
Each round of the pageant consists of contestants showing off their talents, competing in a beachwear round (of course there's a beachwear round), answering the mystery suitor's questions, and trying to impress the mystery suitor's "most trusted family member," according to ABC.
After each round, daters will be eliminated until there are only two left to meet the mystery suitor in a "dramatic and highly anticipated reveal," ABC explained in the press release for the show. They'll each make a romantic proposal and hope that the mystery suitor picks them.
Just in case you were worried that this new dating show would eliminate other summer faves like The Bachelorette and Bachelor In Paradise, calm the heck down. According to a tweet from Fleiss himself, those shows are airing, too, so expect Bachelor Nation Twitter to be lit this summer.
Palmer was The Bachelor back in 2004, in case you're new here. He didn't propose to his finalist, Jessica Bowlin, though they did date for a little bit before breaking up. Since then, Palmer's been a sports broadcaster and a host on DailyMail TV. Hopefully, the contestants on his show will be more inclined to pop a romantic question at the end of the season than he was, given that it's the entire premise of the show.
Or despite the fact that it's a totally unrealistic expectation for two people to fall in love without actually knowing each other at all beforehand. But this is the kind of content reality TV viewers live for. Well, maybe. Some people on social media weren't convinced that this show will have the same kind of success as The Bachelor when it first aired.
People Weren't Exactly Optimistic
Rob Mills, SVP, Alternative Series, Specials and Late Night at ABC told Us Weekly, "No one other than Mike Fleiss could come up with a dating show in the form of a pageant. Viewers are going to love this show — it's all part of the same DNA as The Bachelor franchise. Very excited for this summer."
For better or worse, Fleiss does seem to come up with addictive television premises, even if they can be problematic in many ways. One common criticism of The Bachelor and its spin-offs are that they're steeped in heteronormative gender traditions.
A beauty pageant style mystery dating show doesn't exactly seem like it will be any different. But who knows, maybe Fleiss and his co-creators suddenly became woke and will surprise everyone. Or not. In either case, I'll probably be watching.
Check out Romper's new video series, Bearing The Motherload, where disagreeing parents from different sides of an issue sit down with a mediator and talk about how to support (and not judge) each other's parenting perspectives. New episodes air Mondays on Facebook.