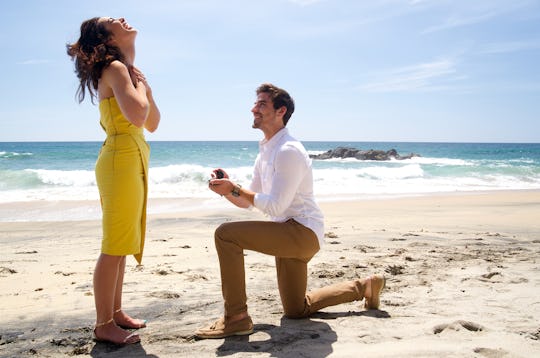 Paul Hebert/ABC
The 'Bachelor In Paradise' Season 5 Cast Is Almost Too Perfect
I don't know about the rest of Bachelor Nation, but my favorite show in the franchise is undoubtedly Bachelor in Paradise — what happens when The Bachelor goes on spring break. That is why I could hardly contain myself when People magazine confirmed some of the Bachelor in Paradise Season 5 cast on Tuesday. Rumors have been swirling about who will be going to Mexico this summer for months now, but this is the first real confirmation we Bachelor devotees have gotten. And let me tell you, everyone you hoped would be there is coming back.
Dozens of contestants enter the weird, pheromone-filled world of The Bachelor every year, but there are a few who manage to make their way into audiences hearts after just a few hours of screen-time (I'm looking at you, Joe the Grocer). Others make their mark on Bachelor Nation as the official "villain" of the season (oh hi, Krystal). But both are great fun on Bachelor in Paradise. Which is why both Krystal and Grocery Store Joe will be a part of the BiP Season 5 cast. While I don't think that these two will fall in love on the show, stranger things have happened at Paradise, which is why I love it so.
Grocery Store Joe and Krystal will be joined by several other former Bachelor and Bachelorette contestants from the past couple of seasons. The cast of romantic hopefuls include the taxidermy-enthusiast with a heart-of-gold, Kendall; mic-dropper Bibiana; David the chicken; Jordan, the male model who appears happiest when nearly nude; bumper car trauma survivor Annaliese; the one who got away, John; Canadian hunk Kevin; Colton's ex-girlfriend Tia; and the consistently underrated Eric. Also joining the cast will be fan-favorites Wells Adams and Yuki Kimura as bartenders. So they won't be going on dates, but they will be available for comic relief and (hopefully) perspective.
As anyone who watches Bachelor in Paradise will no doubt be aware, this is not yet the full cast. Throughout the few weeks that the show is on, as contestants leave the resort, more arrive to shake things up. So while Bachelor Nation will indeed get the Krystal and Jordan meet-up they've been praying for, who knows who will show up in the weeks after the premiere. Personally, my fingers are crossed that I'll get to see Bekah M. from Arie's season again.
Perhaps surprisingly, given the show's gleefully irreverent spirit, Bachelor in Paradise has a pretty solid success-rate as far as real-life relationships go. One such relationship is Ashley I. and Jared Haibon who, after two consecutive and unsuccessful runs at romance on Paradise recently announced their engagement. The couple's years-long will-they-or-won't-they story started on Paradise, and the show teased that Jared will actually be getting down on one knee on the show. Having been (perhaps too much) invested in this relationship for years at this point, I could not be more excited to watch this happen this season.
Other successful relationships to get their start on this show include Jade Roper and Tanner Tolbert, who are now married with children and Carly Waddell and Evan Bass, also now married with children. Though not yet married (and so far without children), Derek Peth and Taylor Nolan are engaged, while Adam Gottschalk and Raven Gates have moved in together.
Basically, what I'm saying here is that this resort is actually a love-factory. Sure, some people leave in tears like Ashley I., but others really do find love, also like Ashley I.
I actually cannot wait to find out how all of this shakes out. Bachelor in Paradise airs August 7 at 8 p.m. ET.