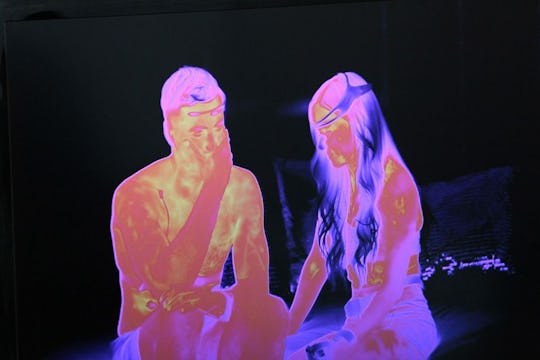 ABC/Rick Rowell
The 'Bachelor' Love Lab Was Strange & Twitter Has A Lot Of Opinions About It
Let's be honest, it's pretty much impossible to watch The Bachelor without cringing at least once at the inevitable awkwardness. The introductions, the dates, the reactions — it can be a bit uncomfortable to watch all of the ladies vying for one man's attention. But on Monday night's episode, Ben's group date at the Love Lab was so weird (and kind of creepy) that even for The Bachelor, it seemed a bit much.
On the second group date of the night, the chosen women found themselves at Love Lab Technologies (greeted by a robot, obvi), where their attraction to Ben would be tested — literally — through a series of experiments. Love Lab researchers monitored the women's eye movements when presented with different pictures to gauge their true feelings (diamonds or babies? Ben or former-Bachelor Sean Lowe?), and quantified the spark between Ben and each of his dates through heat-sensing technology — while the other ladies watched, not even sort of impressed. And then, to round of the weirdness of this crazy group date (I mean, talk about unromantic), Ben then had to judge the women blindfolded based on the smell of their sweat. Gross.
Naturally, Twitter had plenty to say about this insane date, because seriously, the Love Lab idea is all kinds of crazy.
In theory, the idea of measuring compatibility kind of makes sense, and body chemistry really does seem to matter when it comes to finding a mate. But trying to choose a wife out of a pool of dozens of women based on what her sweat smelled like (how come so many of those women smelled "sweet" instead of stinky anyway?!) doesn't seem like a good plan at all.
Still — I guess it does make for interesting television.
Images: ABC/Rick Rowell