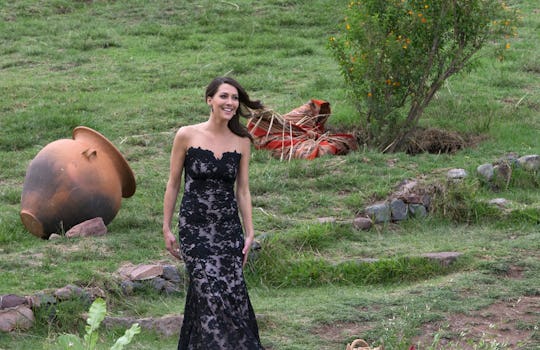 ABC
Every Spoiler From Arie's Season Of 'The Bachelor' For Those Who Can't Wait Until The Finale
I know we've all heard it before, but what if this season of The Bachelor really does have the most dramatic finale ever? Chris Harrison has assured viewers several times that this season he really means it. So what's all the excitement about? I've got The Bachelor spoilers from Arie's season if you really can't wait until the finale to find out. Personally, I've found that knowing what comes next has made me even more excited to see the finale — because it definitely will be dramatic, I promise you. And it may even change your mind about the key players here.
The one thing I don't have any information on yet is who the next Bachelorette is, which will be announced during the After the Final Rose ceremony. Sure I have my suspicions, but nothing is confirmed. All the information I have right now comes from famed spoiler site Reality Steve, who gets all the information for every Bachelor and Bachelor-adjacent show and is very rarely wrong. In fact, he's been right about everything this season so far. So if you really want to know what happens at the finale read on for all the tea. Warning: major spoilers ahead, obviously!
Arie Proposes To Becca
This shouldn't be a huge surprise to anyone, as Becca has been this season's front-runner since the very beginning. On Jimmy Kimmel Live!, Kimmel himself predicted that Becca would be the winner, and Reality Steve reported months ago that she was the one who gets engaged to Arie at the end of the show. Furthermore, Arie and Becca both sort of gave the game away when they posted Instagram stories just hours apart from what looked to be the same back yard. But this is where things start to go south.
Arie Ends His Engagement To Becca
You know those clips The Bachelor keeps showing of someone sobbing off-screen while Arie meanders around a living room? According to Reality Steve, this is when Arie brought a camera crew with him to break up with Becca after being engaged to her for a little while. By all accounts she was completely blindsided, and her breakup was all caught on film. This... is not how this is generally supposed to go. So if you were wondering what Caroline meant at the Women Tell All special when she said, "I know what you did," well this is what Arie did. This also explains two sad Instagram stories that Becca posted, including one photo of wilted flowers captioned "mood" and another with her cat with the caption "at least she still loves me."
Arie Tries To Win Lauren Back
Reality Steve reported that Becca and Arie were together as of New Year's Eve, meaning Arie didn't break up with Becca until after the show was already starting to air on ABC. The reason was reportedly that he couldn't stop thinking about Lauren and realized she was the one he really loved and really wanted to be with. So, Arie brought his trusty camera crew and flew to Lauren's hometown in Virginia to ask for her hand in... dating.
Arie & Lauren Are Now Dating
Lauren accepted Arie and the two of them are apparently now in a relationship, though they are not engaged. I hope they're happy for Lauren's sake, because she isn't the one who did anything wrong here.
Arie & Lauren Could Be Engaged
Reality Steve is usually accurate, but he's been wrong before and he tends to hedge his comments if he doesn't have confirmation. In this case, Reality Steve says he's hearing that Arie and Lauren just got engaged, but he doesn't absolutely know the truth.
The one last thing that nobody knows is what will go down on the live After the Final Rose broadcast. Personally, I hope Becca lets Arie have it.
Check out Romper's new video series, Romper's Doula Diaries:
Watch full episodes of Romper's Doula Diaries on Facebook Watch.