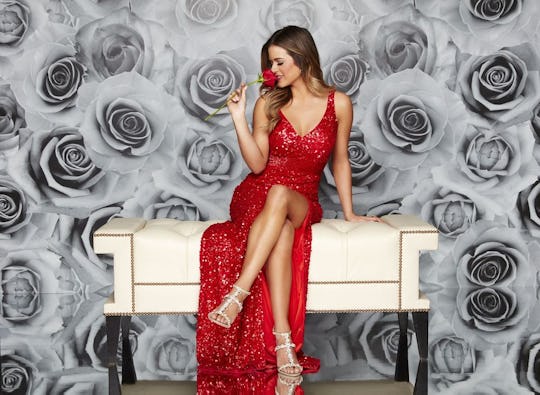 Craig Sjodin/ABC
'The Bachelorette' 2016 Contestants: Meet The Men Hoping To Find Love With JoJo
Season 12 of The Bachelorette is starting soon (May 23) but luckily you won't have to wait until then to get a look at each of the contestants who will be vying for JoJo Fletcher's heart. While the juicy stuff obviously has to wait for the show itself to start, there is enough to go on to figure out that the Bachelorette 2016 contestants are going to make JoJo's decisions pretty difficult.
After being the runner-up contestant on her own season of The Bachelor, JoJo is definitely on the lookout for love and ready to find the one. She told E! that while she wasn't sure about all the guys at first, "in the past week or two, I've started to look around the room and I feel like I know my husband's in that room. I don't know who it's going to be yet, but I have some really good guys."
ABC has released the lowdown on all 26 of the men putting themselves on the line to win JoJo's affections. While there's no way to know just yet which guy is going to set himself apart from the crowd, it certainly seems like there are some interesting men in the mix.
Alex
Alex, 25, is a U.S. Marine looking to one day run his own business. He once saved someone from a burning car – that's some serious heroics.
Ali
Ali, 27, is a bartender. He describes marriage as "partnership in life, with limitless love and passion." Quelle romantique!
Brandon
Brandon, 28, lists his occupation as "hipster." He sounds like the hopeless romantic type, saying he "sees love everywhere" and claiming that he's looking for a "The Notebook type of experience."
Chad
Chad, 28, is a luxury real estate agent who also makes free mention of loving The Notebook and cites himself as the person he admires most in the world. His greatest achievement? "Being born good looking."
Chase
Chase, 27, is a medical sales rep. His greatest dating-related fear is having a girl fall in love with him when he does not return her feelings.
Christian
Christian, 26, is a Telecom consultant. His mother is his best friend, and he would love to go to space one day and take some "epic selfies."
Coley
Coley, 27, also works in real estate, as a consultant. He's a Harry Potter fan with dreams of traveling and seeing the world.
Daniel
Daniel, 31, is a model. He does not consider himself a romantic but promises he has "good manners."
Derek
Derek, 29, is a commercial banker. He is afraid of kittens, but has skinny-dipped in shark-infested waters before.
Evan
Evan, 33, is an "erectile dysfunction expert." Not a doctor, it seems, but an expert nonetheless. He does not like it when girls have chipped nail polish or food allergies. He describes his "sexual energy" as "very powerful and beautiful."
Grant
Grant, 27, is a firefighter. He is not a Harry Potter fan, and he once evaded the police in Mexico on an ATV.
Jake
Jake, 26, is a landscape architect who already sees himself settling down the Bachelorette in a few years time. If he could have one superpower, he would choose the power of flight so he could avoid L.A. traffic. Oh yeah, and he would use it to help people.
James F.
James F., 34, owns a boxing club. He used to work in chiropractics but left that to pursue fitness and acting.
James S.
James S., 27, lists "Bachelor superfan" as his career. He hates sushi, and always insists on paying for dinner on dates.
James T.
The final James, James Taylor, is 29 and a singer/songwriter. His dream job would be a starting NFL quarterback.
Jonathan
Jonathan, 29, is a technical sales rep. If he could be someone else for just one day, he would be "someone incredibly poor in a third world country" because it would give him greater appreciation for what he has.
Jordan
Jordan, 27, is a former pro football quarterback and brother of Aaron Rodgers. He's not afraid to challenge himself or face his fears; to combat his fear of heights, he went skydiving.
Luke
Luke, 31, is a war veteran. He considers himself to be a team player and prizes his patience and empathy above other qualities.
Nick B.
Nick B., 33, is an electrical engineer. When asked who he would choose if he could be anyone else for a day, Nick B. said: "I would be the woman I want to marry so I could find out what's in her head. Plus, I'm pretty sure I could only last a day being inside a woman's head. :)"
Nick S.
Nick S., 26, is a software salesman. He once chased a mountain lion, which is something I would really enjoy more context on.
Peter
Peter, 26, is a staffing agency manager. His ultimate date would involve a physical activity of some kind, such as scuba diving in Australia or Fiji. An exciting but expensive date.
Robby
Robby, 27, is a former competitive swimmer. He thinks of himself as a romantic and he would love to have a big family one day, because he comes from a big family himself.
Sal
Sal, 28, is an operations manager. He doesn't care for snakes or Kardashians, and he once egged a teacher's house in high school.
Vinny
Vinny, 28, is a barber. He likes to cook Italian food but hates turkey meat and once bleached his tips to look like Justin Timberlake.
Wells
Wells, 31, is a radio DJ. He might be the only person on earth who does not like pizza. He also did a cage dive with great white sharks in South Africa.
Will
Will, 26, is a civil engineer. He describes his go-to dance move as "Bernie-ing," inspired by the 80s film Weekend at Bernie's.
It seems like JoJo definitely has a lot of variety to choose from with these 26 guys.