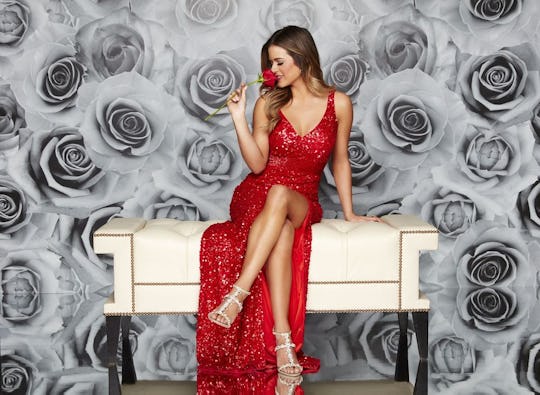 Craig Sjodin/ABC
'The Bachelorette' 2016 Spoilers From The Show's Creator Promise Most Dramatic Season Yet
The Bachelorette creator and executive producer Mike Fleiss has been tweeting up a storm during the filming of the upcoming season, and he's dropping all kinds of hints about what's going on with JoJo Fletcher and the guys fighting it out for a chance to date her. These Bachelorette 2016 spoilers from the creator of the show might ramp up your excitement more than they reveal anything juicy, but there's more than enough here to get amped for the new season.
Whether it's praising JoJo, keeping a kiss count, or shadily calling out one of the guys, Mike Fleiss has been serving all the behind the scenes info you could want. He's basically the Gossip Girl of The Bachelorette, just with a less breathy voiceover. He narrated the first night, the first group date, and provided a few pictures to pique fan curiosity. If you're looking for a complete rundown of every single thing that happens on the show before you get to see it, Fleiss' tweets might prove a little unsatisfying – but what's the fun of knowing everything before it happens?
Here are some of the more revealing things he had to say, along with some tweets that'll just leave fans curious for answers.
Fleiss started his long, long line of live tweets by diving into the very first night, when JoJo met all of the guys for the first time. Fleiss noted that one guy did something unicorn-related in his intro ("Another unicorn???" in Fleiss' exact words) in an homage to JoJo's own first appearance. Fleiss also revealed that the first kiss happens the first night – he just didn't say with who.
He also revealed just a little bit about the dates, mentioning which ones were going well (sadly, sans identifying factors) and which were "going to the dogs" – or is that a hint that puppies are involved? I hope it is.
Fleiss took time out to give updates on JoJo's state of mind, too. He reassured fans often that she was happy and having a good time, but also gave some insight into her insecurities. After her experience on The Bachelor, it's no surprise that JoJo would be a little reticent to get attached again, but if Fleiss' tweets are anything to go by, she gets over those nerves pretty quickly.
It looks like this season is also going to be bringing the drama in a major way; Fleiss agreed with a fan who said it looks like the most dramatic season yet. Emotions are riding high on the set of The Bachelorette, with fights almost breaking out and a lot of crying – or "mancry," as Fleiss put it. Apparently crying is like guyliner, and it needs to be dude-ified to make it acceptable for men to do it.
Love is also in the air, it seems, as Fleiss helpfully confirms that at least one person falls in love this season. It's just impossible to tell yet whether or not that someone is JoJo.
This isn't even all the information Fleiss had to give – there were mentions made of beautiful locales, tense five-hour flights and unique home visits. Not of it was elaborated on in great detail, but it was promising nonetheless.
And in case you were wondering, that kiss total ended up at around eight. Not too shabby, JoJo.
XOXO, Gossip Fleiss.