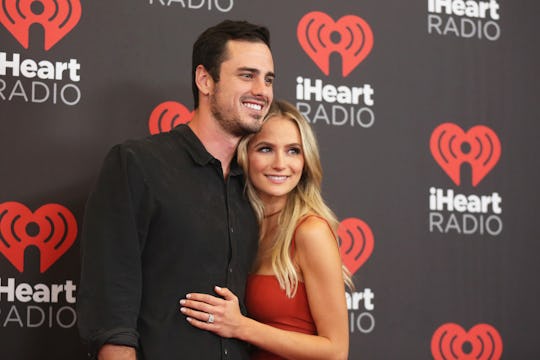 Isaac Brekken/Getty Images Entertainment/Getty Images
Ben Higgins & Lauren Bushnell Are Done
It won't be happily ever after after all for this TV duo. Even though he gave her the final rose on the ABC reality series, The Bachelor couple Ben Higgins and Lauren Bushnell have split. It was a fate that may have seemed like a foregone conclusion for a pair whose relationship was born and matured in the public eye. Still, the two pledged to "remain friends with much love and respect for one another," in a joint statement that People magazine published Monday.
"We feel fortunate for the time we had together, and will remain friends with much love and respect for one another," they wrote in the statement. "We wish nothing but the best for each other, and ask for your support and understanding at this time."
Higgins and Bushnell starred in the 20th season of The Bachelor, which aired between January and March 2016. According to People, the two made their engagement public shortly after the season finale, and Bushnell moved to Higgins' hometown of Denver to be with him.
But in a November episode of their subsequent spinoff series Ben and Lauren: Happily Ever After?, Higgins opted to postpone their marriage because it felt rushed.
And breakup rumors began to swirl in February, with Us Weekly reporting that Bushnell had vacationed in both Nashville and Mexico without Higgins. At the time, Higgins pushed back against the speculation by posting a beach photo of the two, calling the rumors "fake news" in the Instagram caption. "I am still extremely lucky to be able to share life with her and be by her side," he concluded the post.
The two ultimately decided not to share their lives with each other, though. And their unusual beginnings as a couple could have had a lot to do the eventual split. During Fantasy Suites episode of his season of The Bachelor, Higgins told both Bushnell and her fellow contestant JoJo Fletcher that he loved them. Bushnell has also struggled with the fact the her now-former fiancé was dating a slew of other women when they met, as she told People:
There are so many weird elements to being in a relationship after The Bachelor. We've gotten in arguments like any other couple, but about some things that other couples wouldn't have to fight about, like the fact that we met when he was dating other women. You can say that's what I signed up for, but it's still real life and it's still hard.
So, the real life aspect of the relationship, the part that happens when the cameras stop rolling, proved to be too much of a challenge for Higgins and Bushnell. At least they'll always have the memories — and the tapes of their reality show moments together.