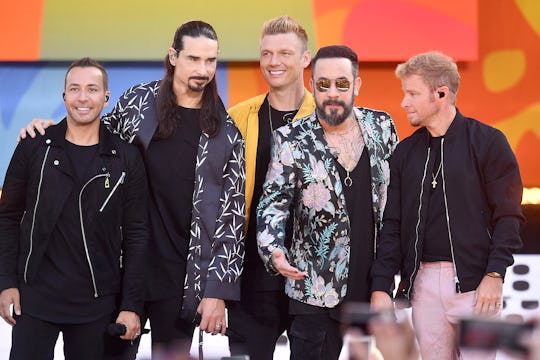 Michael Loccisano/Getty Images Entertainment/Getty Images
The Backstreet Boys Are Making Their Next Tour A Family Affair
Think of the Backstreet Boys and images of screaming fans and perfectly choreographed dance numbers likely come to mind. These guys have made a fortune crooning some of the catchiest songs to fans all over the world — they were one of the biggest boy bands, after all. But as they prepare to hit the road for yet another tour, things look a bit different. Instead a tour bus filled with body guards, tour managers, and assistants, it will be full of kids — eight of them to be exact. The Backstreet Boys are headed back out on tour, this time with one important change — their children and families with be in tow.
In 2019, Backstreet is back and headed out on its DNA World tour in honor of the group's tenth studio album of the same name, according to Billboard. The first single from the album, "Chances," is already receiving rave reviews from fans.
"We have a family room backstage for the family and the wives and the kids to hang out in," Kevin Richardson told People. "It used to be the VIP room, stocked with alcohol for our friends and different people that come to see the show, but now it's the family room."
And for Nick Carter, dad to 2-year-old Odin, the VIP room is something a little bit different this time around.
"It's the VIB room, Very Important Baby. It'll be daddy daycare," Carter said in an interview with People.
Carter's wife, Lauren, was expecting baby number two, but sadly had a miscarriage earlier this year, as The Bump noted.
Howie Dorough said it's the kids that bring back the excitement when it comes to touring, something they've done numerous times before.
"We got a little jaded, but having our own families gives you those goosebumps all over again," Dorough told People. "Our kids are amazing. They share their daddies with the world. Fatherhood has taught all of us to slow down and be more selfless."
The boys are slated to finish their Larger than Life residency in Las Vegas at Planet Hollywood Resort and Casino in April 2019. Presumably, a residency stint would have been easier with family since the venue was the same every night. Now with concert dates around the world, things are going to change. Plus it's the biggest tour they've had in 18 years, according to E! News.
"We are stoked to finally be here again gearing up for a new album, new tour, and brand new single," AJ McLean told People. "There are so many amazing things we have up our sleeves. It's really nice to see the actual payday when we've been busting our butt in the studio. We've been working on this record for quite some time now, it's finally about to be sooner or later presented to the world."
Not bad for 25 years together as a band. And as they finish up in Las Vegas and prepare for their DNA World Tour, here's hoping that the Backstreet Boys and their broods can make life on the road a true family affair.