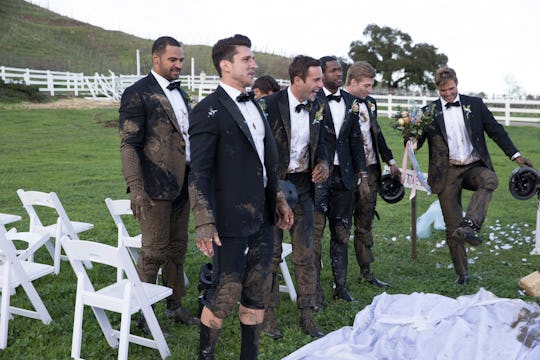 Paul Hebert/ABC
'Bachelorette' Fans Were Not Feeling The Ball & Chain Date
The Bachelorette season is underway and, along with it, the group dates with archaic themes. On Monday night's episode, the first group date had several of the contestants compete in a wedding-themed obstacle course. The ball and chain date on The Bachelorette may seem like a huge joke, but it just perpetuated sexist ideas about marriage. Fans on Twitter took notice, and they were not happy about it.
Dates like these are nothing new on The Bachelorette. Last year, during Rachel Lindsay's season, Ashton Kutcher and Mila Kunis made an appearance to present a "husband material" obstacle course. Ugh. It was much of the same, and it seems like the producers pulled out the same tricks this year. Instead of Ashton and Mila, Rachel herself — and her fiancé Bryan Abasolo — helped Becca out to present this group date.
Basically, the obstacle course was filled with stereotypical hoops that people getting married (men, typically) have to jump through. The first one was the "ol' ball and chain," where competitors had to literally hook a ball and chain on their ankles. Seriously? Why is the ball and chain metaphor on The Bachelorette, a show that prizes marriage? The belief that marriage is a sort of "prison" for men is horrible, and it's 2018 people — the Bachelorette crew should know better.
That wasn't all. After the ball and chain, contestants needed to take a dip in freezing water to represent "cold feet." Because every man is hesitant to actually commit, right? Cue eye-roll emoji. After that, they had to brave a Crisco-slicked staircase because...marriage is a slippery slope? I'm not sure what's going on there. After that, they had to get down and dirty in some mud because "relationships get messy." Oookay. After grabbing a bouquet at the end of that, they had to find a ring for Becca hidden in huge wedding cake. They couldn't use their hands because, as Rachel put it, "what that mouth dooooo" (okay, that was funny). Whoever got through the obstacle course representing how...terrible marriage is, apparently? They win by...pretending to marry Becca!
All in all, this date is pretty sexist and totally rebukes the point of The Bachelorette, which is to find a lifetime mate (it doesn't work out a lot of the time, but hey — that is the point). But Bachelorette fans who were pissed off about it should take some comfort that they're not alone; Bachelor Nation on Twitter certainly wasn't quiet about the date:
So, yeah, a lot of Bachelor Nation were not fans of this archaic group date. Because not only does it encourage old fashioned (and gross and wrong) beliefs about women and marriage, but...this date has totally been done before!
Unfortunately, not only was this date a literal and metaphorical mess but it caused drama within the house. Lincoln won the date, and he also won a photo of him and Becca together as if it were their actual wedding date. He was proud of this photo and showed it off to the other contestants. While none of them loved it, Connor took it to the next level and threw it in the pool. Becca was not happy about that, and it may change how she feels about Connor.
Now that it's all over though, hopefully Bachelor Nation (and the actual contestants) will be subjected to a date like that again...who am I kidding, though, this is The Bachelorette: it's not exactly prided on its progressiveness or feminism. But hey, a feminist Bachelorette fan like myself can dream! For now, I'll keep watching these dates, albeit begrudgingly.