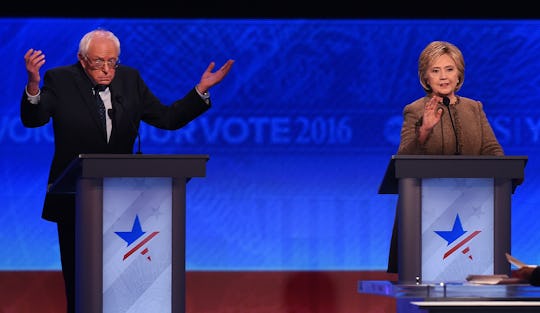 The Best ABC Democratic Debate Memes Made It Clear That This Weekend Was Really About 'Star Wars'
The Democratic debates are usually notable not because the candidates go head to head like they do in the Republican debates, but they're notable because of how civil and agreeable the candidates are towards one another. The Democratic debate Saturday was no exception, though the candidates were much saltier than in recent debates given Vermont Sen. Bernie Sanders' recent appearance in the spotlight of controversy. The best ABC Democratic debate memes are great because Democratic National Committee Chairperson Debbie Wasserman Schultz really does have as much power as Darth Vader.
Former Secretary of State and Democratic frontrunner Hillary Clinton joined Sanders in the debate, as did former Maryland Gov. Martin O'Malley. CNN predicted that the debate would get much more personal than previous debates, because it came just after the DNC temporarily revoked Sanders' access to its voter files when it found out that a Sanders' staffer gained unauthorized access to Clinton's proprietary voter files, and they were right. Further, the debate was the first since Clinton stood her ground in yet another hearing that investigated how she used her private email during the Benghazi attacks, when she was secretary of state, according to CNN.
The debate didn't have any set topic, but the candidates did stick to their quirks. Sanders sounded like your uncle at a holiday celebration when someone starts a political debate, Clinton sounded like she was trying to sell minivans, and O'Malley seemed to be somewhere in between the two of them. Here are the best memes from Saturday's ABC Democratic debate.
About The Candidates
About The Candidates' Drama
On The Actual Debate
Image: Jewel Samad/Getty Images