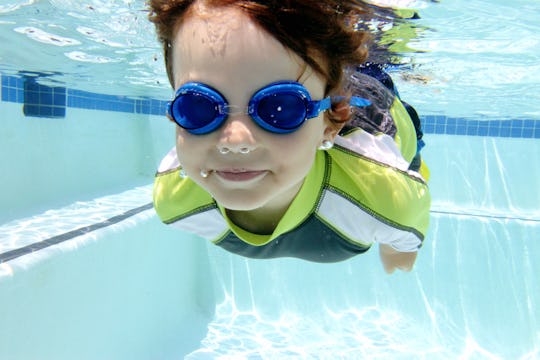 chasingmoments/Fotolia
Turns Out, Your Kid Can Learn How To Swim A Lot Earlier Than You Think
A whistle blew and swimmers on either side of me plunged into the pool as onlookers cheered. I watched as little arms and legs splashed clumsily through the water until suddenly, a firm hand on my back pushed me off the diving block to join them. I might have finished that race with a sixth place ribbon (out of six, NBD), but I finished my 6 and under swim season with the invaluable ability to stay safe in the water. I turned out OK, but what age is the best age for a child to learn to swim?
Not every child learns to swim in order to become an elite swimmer like my 6-year-old self. According to the American Red Cross, 200 children drown every single year in backyard pools. For Alexis DelChiaro, a California mama to two with a pool in her backyard, water safety was the highest priority. She signed them up for lessons when daughter Gianna was only 4 months old, and son Grant was 9 months old.
"I actually wish I had started them sooner! Babies can start learning the basics of swimming as newborns, as soon as their umbilical cord falls off and heals. Initially, I got mine in lessons because we have a pool and safety is number one for me," DelChiaro says in an interview with Romper.
It's not a bad idea. While the teeniest babes won't be ready to learn the strokes right off the bat, this early introduction to the water can help them become comfortable and confident when more involved lessons begin.
"Personally, I don't think a child can ever be too young to get acclimated to the water," says former swim coach Jason Hughes in a message to Romper. "At my swim club, we started as early as 4 months, just splashing and getting acclimated to the water with the parents' involvement."
Of course, the idea of sending your baby off for swim lessons before they can even speak is a daunting idea for many new parents. Charlotte Smith, a former competitive swimmer and swim coach for over 20 years, sees both sides to this situation after becoming a mom to daughter Alice earlier this year. Despite parental anxiety, she urges parents to understand the purpose of early swim programs and lessons. "It's a lifesaving skill. The sooner you can get them in the water to learn it, the better off they'll be," she says in an interview with Romper.
It's crucial to remember, however, that participating in early swim programs does not mean that your children is drown-proof and should ever be near water unsupervised. According to the American Academy of Pediatrics, adults should always be within an arm's length of infants and toddlers when they're in the water, regardless of their previous lessons and experience.
Pool Safely, a national public education campaign that works to reduce child drownings, wants parents to know that their child can drown faster than Michael Phelps can break a swimming world record. Their 2016 PSA stresses the importance of having a designated Water Watcher at all times.
Even if you're not ready or able to pack up the swim diapers and head to the pool, there are certain tips and tricks you can use to help prepare your infant for lessons in the meantime. In fact, you can start as soon as tonight's bath. "One of the easiest ways is to just get them used to splashing around at home while in the tub, learning to blow bubbles. Then, when the time does come for swim lessons, the larger body of water doesn't terrify them," says Hughes.
While pool safety is the biggest motivator for many parents enrolling their kiddos in swimming programs, there are plenty of other benefits to be had as well. "I began to see there were so many additional benefits. Confidence in learning a new skill, listening and understanding direction, comfort level in and around water, and they take the best naps after swim," says DelChiaro.
So, what is the right age to teach your child to swim? While flip turns and dolphin kicks might be best left to the big kids, comfort and competence in the water can be taught from only a few months of age. No matter how many lessons they take or hours of pool time they rack up, however, infants and toddlers must always be supervised closely around water. As Pool Safely reminds us, when it comes to pool accidents, "Sometimes, there is no do-over."