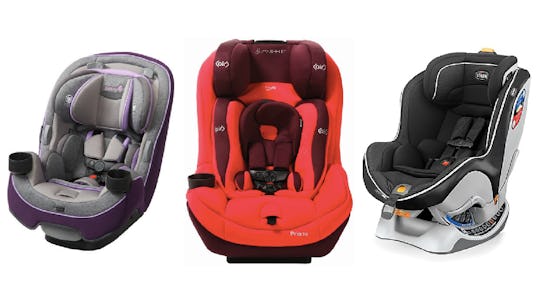 Toys "R" Us, Albee Baby, Buy Buy Baby
The 10 Best Car Seats You Can Score At A Major Discount Right Now
To say that a car seat is one of the most important purchases you'll make during the first year of parenting is an understatement, to say the least. That's why we obsess over making the right choice. The ideal car seat needs to be incredibly safe, of course, but it also needs to be easy to use (since you'll likely be using it every single day, multiple times a day). Luckily, with all the post-holiday markdowns, now is the perfect time to shop. So what are the best infant and toddler car seats on sale right now?
We all have different needs when it comes to car seats, depending on the size of our car (and baby). Some of us want models that will grow with our kids; others are hoping for seats that will be easy to carry or even (miracle of miracles) look cool in our backseats and when we click it onto the stroller. One main thing every parent wants is a car seat that will hold up under the worst of circumstances, even if we hope that we never have to find out if it lives up to its promises!
For that reason, car seats are something it's never worth skimping on when it comes to price, but there's no reason why you shouldn't take advantage of some of the fabulous discounts happening at the moment (especially considering how many of the seats on sale are top-sellers). Here are 10 options to check out.