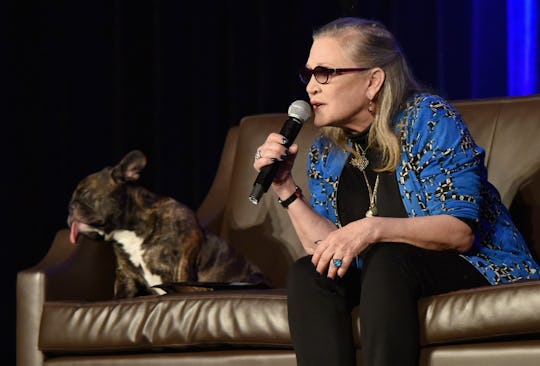 Daniel Boczarski/Getty Images Entertainment/Getty Images
The Best Carrie Fisher Memes Remember The Icon
This year has been ruthless. On Tuesday, Carrie Fisher died just days after suffering a heart attack on a flight. As a personable actor and writer who enchanted the world with her portrayal of Princess Leia in Star Wars, Fisher leaves behind many heartbroken friends and fans around the world. In memory of Fisher's endless spirit, I've collected some of the best Carrie Fisher memes to help commemorate one of the fiercest women of our time.
On behalf of Fisher's daughter, Billie Lourd, family spokesman Simon Halls told People on Tuesday:
It is with a very deep sadness that Billie Lourd confirms that her beloved mother Carrie Fisher passed away at 8:55 this morning. She was loved by the world and she will be missed profoundly. Our entire family thanks you for your thoughts and prayers.
Fisher was en route to Los Angeles from London on Friday when she suffered a heart attack. She was taken to a hospital upon landing, and was reportedly in stable condition, making her death even more of a shock to fans. Before suffering her medical emergency, she had been in the middle of a tour for her eighth book, The Princess Diarist, and had recently finished filming Star Wars: Episode VIII.
As the female lead of one of history's most popular science fiction series, as well as an outspoken feminist, comedian, and advocate for mental health, Fisher inspired entire generations. Here are a few memes that do her justice and celebrate her memory:
With her candid humor and kindness, Fisher left behind a legacy that touched thousands around the world. At just 60, she had a lot left to give, but we can celebrate the many contributions Fisher left behind, from quotes that resonated with the public to the works of art she brought to life. She spoke openly about her issues with substance abuse, her experience with bipolar disorder, and the struggles felt by women. She inspired an entire generation of women to be whip-smart space princesses, and as a public figure, she was as open as she was funny.
"Thank you to everyone who has embraced the gifts and talents of my beloved and amazing daughter," Fisher's mother, Debbie Reynolds, wrote on Facebook on Tuesday. "I am grateful for your thoughts and prayers that are now guiding her to her next stop. Love Carries Mother."
According to ABC News, Fisher is survived by her mother, her daughter, her brother, her two half-sisters, and her beloved dog, Gary.