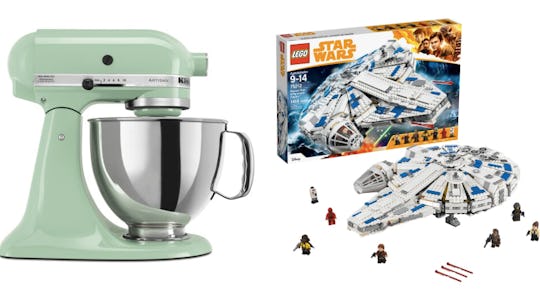 Kohl's
Get $100 Off KitchenAid Mixers & 30% Off LEGOs At The Kohl's Black Friday Sale
Black Friday sales that start before Thanksgiving gives enthusiastic shoppers even more time to take advantage of the best deals of the year. Some of the best offerings from Kohl's Black Friday 2019 sale are available to claim as early as Nov. 25, and the deals are pretty fantastic.
If you find yourself with some free time between trips to the grocery store in the week leading up to Thanksgiving (starting Nov. 25), you may want to pop into your local Kohl's or shop online because in addition to tons of discounted products, you'll get $15 Kohl's Cash for every $50 spent and 15% off all purchases in-store and online (use code THANKS15 if you're shopping from home). If you're not already familiar, Kohl's Cash works essentially as a gift card that you can spend on a future Kohl's purchase (there are no brand exclusions, per the company's website) as long as you use it before it expires. It's like free money, kind of.
On Thursday, Nov. 28, customers will find doorbuster deals including, $68 Instant Pots and $100 Fitbits, while the official Black Friday sale begins on Thanksgiving day; online the deals will be available at 12:01 a.m. Central Time on Thursday morning, and store will open at 5 p.m. local time. The doorbuster deals are only offered until 1 p.m. on Friday, Nov. 29 while supplies last, so if you plan on shopping in person, it could be worth it to hop in the car and hit up your local Kohl's right after you've had your fill of pie.
In the meantime, read on for some of the absolute best deals from the Kohl's Black Friday sale so you can plan accordingly.