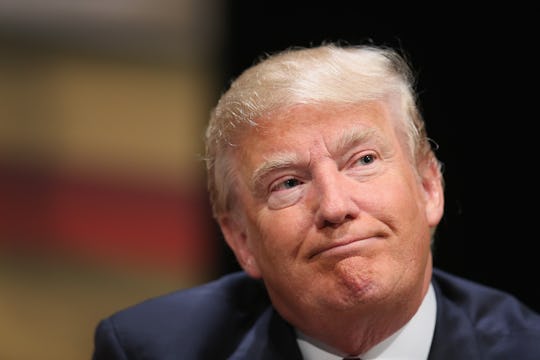 Scott Olson/Getty Images
The Best Donald Trump 'SNL' Moments Had Absolutely Nothing To Do With Donald Trump
Twitter has voted, and Donald Trump hosting Saturday Night Live was a bust. Pretty surprising for a guy who's made "YYYYUGEEEE" part of our cultural lexicon in the midst of an election season, no? (JK. Not surprising at all!) If the Twitterverse didn't hate him for his overt racism, sexist commentary, and his general existence previously, then goodie for them, because they definitely do now. Despite hundreds of protestors (and Trump supporters) waiting outside the show's New York City walls, the show went off without a hitch.
Saturday Night Live wasn't a total bust, though. Larry David returned as Bernie Sanders (the highlight of my night), Ivanka Trump made a cameo in the show's opening minutes that proved a breath of fresh air, Sia performed not once, but twice (bless), and there was even more Larry David. (Seriously, Lorne Michaels, put the man on retainer if you haven't already! Please! Listen to the people!)
The election-fueled episode of Saturday Night Live was funny, and there were a few skits worthy of writing home about (hell, they inspired this post), but there's the thing: all the best moments had one thing in common. Curious to know what that one thing was? They had nothing to do with Donald Trump.
Alas: