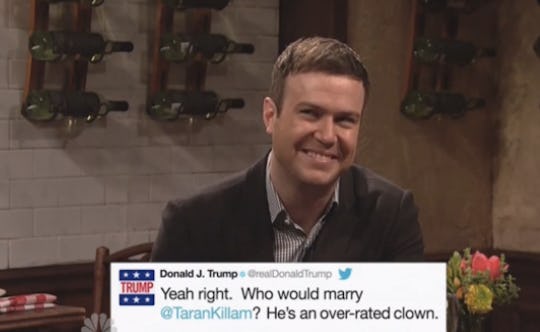 SNL/YouTube
The Best Donald Trump 'SNL' Skit? His "Live-Tweet" Sketch, Hands Down
Well, it finally arrived: The night we'd all been waiting for. OK, maybe not all of us; but plenty of us. And certainly all of Twitter. Tonight, The Donald hosted Saturday Night Live for the second time ever (yes really — there was a first time, back in 2004). And to be honest, it was OK, but nothing to write home about. Sure, there were a few LOL-worthy moments ("Hotline Bling," anyone?). But not a ton of amazingness. Still, I think Donald Trump's best SNL skit was when he "live-tweeted" a sketch he wasn't even in — and totally ripped into each cast member on stage. 
Of course, The Donald wasn't actually live-tweeting on stage. And let me tell you, I was pretty bummed about that — I rushed to his Twitter page, @RealDonaldTrump, but quickly discovered his last tweet was really five hours prior. Still, these faux "live tweets" were better than any real live-tweeting he's done of late. Particularly during the last Democratic GOP debate. I mean, can we all just pause and reflect for a minute about how much The Donald hyped that one up? And yet how utterly boring all his live-tweeting was? For the record, "live-tweeting" a debate doesn't mean you should just retweet all the many accolades your fans are saying about you on the Interwebs. But I digress. 
During Saturday night's show, The Donald sat just off-stage, while cast members including Taran Killam and Cecily Strong acted in some kind of sketch about a couple at dinner. To be honest, I can't really tell you much more about the skit than that, but frankly, I'm sure I'm not the only one who wasn't really paying attention to it. All eyes were glued to the mock Trump tweets that kept popping up on screen each time an actor talked — and each one came more loaded with insults than the next.
First up to get skewered was Killam, who has become the official Trump impersonator of the 2015-2016 season.
And then of course Cecily Strong got it, too:
Then things got kinda off-track when Kenan Thompson took the stage. It started off humorous, alluding to The Donald's own history of... well, not exactly believing certain birth certificates were legit.
But then things got kinda racist and uncomfortable for a hot minute.
But there was at least one SNL cast member who managed to escape Trump's ire. And that was Leslie Jones, who clearly emerged as Trump's favorite. 
Hilarious! I didn't know the man had favorites. Watch the full clip for yourself below:
Image: Saturday Night Live/YouTube