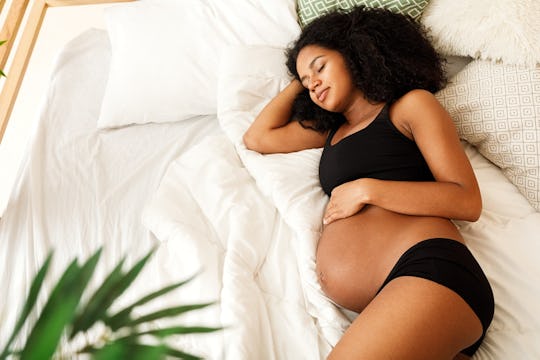 Shutterstock/Artem Varnitsin
4 Comfy Pairs Of Maternity Underwear That Are Supportive, But Not Restrictive
It can be tough to find clothes that fit just right when you're pregnant. It's a sure bet that most of your old standbys will start to feel uncomfortable in one way or another — including your underwear. The good news is there are options out there made for your pregnant body, and the best maternity underwear definitely doesn't lack in the comfort department.
Here's the thing: When you're carrying around another person all day long, you don't have the time or patience to deal with underwear that bunches up or irritates your skin. The most comfortable maternity underwear all has one thing in common: major stretch. Before you invest in a few new pairs, check out the fabric they're made from and look for elastane or spandex so you can be sure they'll stretch with you as you move.
Plus, you don't have to give up your favorite style just because you're pregnant. If you rocked a thong before your bump started to grow, you can totally rock one now, too. Same goes for briefs, hipsters, or a more supportive style like high-waist compression underwear. Just be sure to look for a wide waistband that sits snugly below or over your belly, depending on your preference.
You'll change a lot during pregnancy, but your underwear doesn't have to. Here's a round-up of some of the best maternity underwear out there to help you narrow down your options.