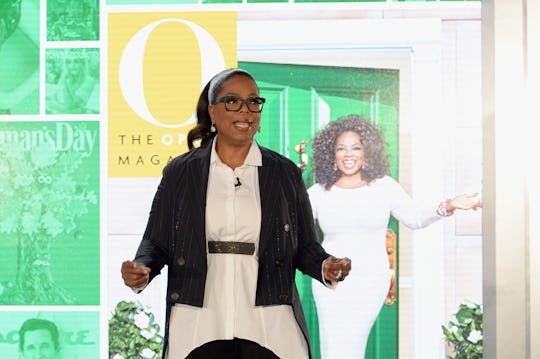 Ben Gabbe/Getty Images Entertainment/Getty Images
#Oprah2020 Tweets That Prove America Is Ready
The United States may not have gotten its madame president in 2016, but that doesn't mean it couldn't happen in 2020 — and the world is pretty sure they know exactly which lady boss they want running in the next election. After OWN network CEO Oprah Winfrey recently hinted at considering a presidential bid, the world instantly began clamoring for her to run in the next election. If she did run, the best #Oprah2020 tweets prove she'd have a pretty powerful team of volunteers out there stumping for her and calling strangers on her behalf. (In fact, some of them seem ready to start today.)
To be clear, Oprah's hint at running for president was actually a pretty small hint. During a recent Bloomberg interview, host David Rubenstein asked whether she'd considered that she could run for president "and actually be elected." And Oprah's answer was gold.
"I never thought that that was... I never considered the question even a possibility," she said. "I thought, 'Oh gee, I don't have the experience, I don't know enough...' And now I'm thinking: 'Oh.'"
As witnessed by the 2016 elections, a lack of political experience is no longer a barrier to reaching the White House. And as it turns out, many Oprah fans wouldn't even be bothered by her nonexistent political career. In fact, they were all for an Oprah campaign, as evidenced by the tweets below.
Of course, there were also a few people who were a little less enthused about the idea of having a second TV personality running the country. As one Twitter user put it, "We already have a billionare [sic], who knows nothing about politics, in WH." Others were quick to advise her to stay far away from politics, with one user writing, "As far as running, not worth the headache. Entrepreneurship is far more liberating than dealing with partisan restructuring."
Oprah's supporters shouldn't start putting up lawn signs yet, though. According to The Washington Post, the billionaire producer told Stephen Colbert just a few weeks ago that she had absolutely no interest in heading to the White House. When asked if she had any interest in running for public office, Oprah responded, "Never! Never. No, I do not. Never!"
Sadly, that sounds like a bit of a stronger hint at her intentions than a simple "Oh," but hey, a fan can dream, right? Because until Michelle Obama tosses her hat in the ring, I'll be sitting over here waiting for Oprah to announce her candidacy.