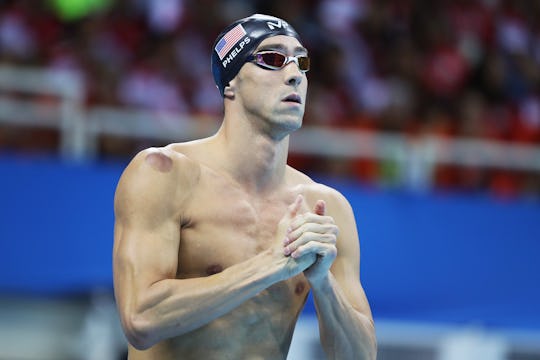 Al Bello/Getty Images Sport/Getty Images
The Best #PhelpsFace Memes Inspired By The Olympian's Hard Core, Pre-Race Game Face
Michael Phelps has his game face on in Rio. It's so good, in fact, it has birthed a new Olympics meme. Here are the very best #PhelpsFace memes because in this moment, Phelps is the king of other-level annoyed everyone can relate to.
On Monday night, before swimming the 200-meter butterfly semi-finals, Phelps was getting into the zone with headphones and his hoodie, according to New York Magazine. The greatest Olympian of all time looked every bit the formidable foe Team USA fans have grown to know and love. But it was South African swimmer Chad le Clos who stole the moment. He jumped in front of Phelps, shadow boxed and even shimmied to try and get him out of his head. Phelps, understandably wasn't impressed.
But the internet was.
Now, following the epic fierce face-off, the brightest minds across social media began making memes out of the moment, giving us a surprising, and timely, new way to express disgust when we just need a moment to ourselves. So in the true modern Olympic spirit, here is a collection of some of the smartest, funniest, and best #PhelpsFace memes you might want to use the next time someone has a little fun at your expense and you just can't even.
Keeping the Arthur vibe alive:
People just don't get how hilarious you are.
Wait, I thought it was Thursday.
This shimmy is everything.
A little high-brow Broadway humor.
If only there were Olympic medals for side-eye.
Do you think he's listening to "Eye of the Tiger?"
Will the real Slim Shady please stand up?
Jedi mind trick:
Disney villain?
Dear NBC: More athletes pre-game face please.
Game face memes aside, there's nothing funny about Phelps' total dominance in the pool.
The rivalry between Phelps and le Clos started in London when le Clos beat the veteran by just a half of a second in the 200-meter butterfly. But the two remained friendly, according to SB Nation. The two fell out when Phelps decided to come back to the event for Rio, indicating that the winning times for the event were something he could beat.
During the 2015 World Championships, Phelps was banned from competing due to his DUI arrest in 2014. But le Clos did compete, and won, taunting Phelps by saying, "Michael Phelps has been talking about how slow the butterfly events have been recently," le Clos said, according to SB Nation. "I just did a time he hasn't done in four years, so he can keep quiet now."
But Phelps face on Monday night did plenty of talking for him.