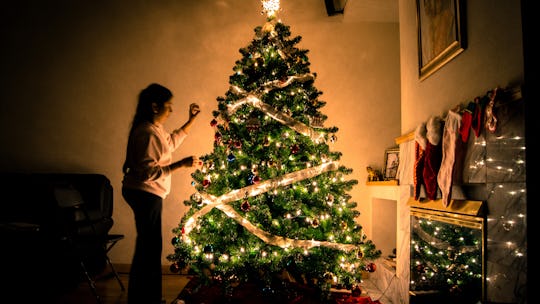 Arun Kuchibhotia
The Best Places To Buy Real Christmas Trees Online, Because It's 2017
In a world where Christmas decorations are put on store shelves in October, packages arrive with a two-day shipping guarantee, and Black Friday deals are almost as big of a deal as the holidays themselves, it's only logical that you can also order a real Christmas tree online for delivery. If you're a big fan of real trees but stick with fake trees to avoid the hassle of chopping one down and lugging it home, you're truly in luck because there are actually legit places where you can order real Christmas trees online? Honestly, it's probably a time and hassle-saver that's worth looking into if you're not in love with cutting down your own.
Although the joy and tradition of going to a local Christmas tree farm is wonderful for an impressive, fresh tree, not everyone can find the time (or strength) to cut down a tree and haul it home (let alone get it off the top of your vehicle and inside). On top of the general crowds after Thanksgiving and the chunk of effort it can take, sometimes it's just not a task families look forward to–and that's totally OK. For those who want the real-tree experience without the hassle, Green Valley Christmas Trees is one solid option to consider ordering an uber-fresh Christmas tree for your home, while simultaneously supporting a homegrown Christmas tree farm.
Not only does the company have wonderful reviews from customers all around the U.S., but they've also been featured with several highly-esteemed home and decor related names, like Southern Living and Women's Day. Additionally, when ordering online, sometimes selection is an issue, but this Christmas tree farm's selection is pretty impressive, offering Fraser Fir, Noble Fir, Balsam Fir and Nordmann Fir trees that are totally farm grown in native soil. If you're a Christmas tree aficionado, you'll find the right type for you. Their website also allows you to shop up-to-date Christmas tree selections, pick your own shipping date, and get your tree delivered for free.
But the thing that really tipped the scale for me was comparing the prices I've paid in the past to cut down and haul my own tree to my home with the prices of ordering an online tree. At a roughly $30 difference, I can totally justify saving the time and hassle to order online instead if I decided to skip the farm-to-home experience. Plus the whole experience left my coats sap-free.
If you want to shop around, however, that's definitely an option too. Ordering Christmas trees online is actually more popular than you might think. Some other popular recommendations for family-owned or homegrown Christmas tree farms include a small family-owned farm in New Hampshire called Weir Tree Farms, A Tree to Your Door created by the Brown's family Tree Farm, and Christmas Trees Now, which is owned and operated by a daughter and father at the Windblown Tree Plantation in Wisconsin.
So, if you're longing for the smell of a freshly cut, real Christmas tree this year but don't want the experience and hassle that comes with going to get it yourself, consider ordering it online as the best of both worlds. You can find home-grown, super fresh trees from family-owned, small-town Christmas tree farms and have it delivered straight to your front door. With the bustle of gift buying, holiday decorating, and family coming in town, it's totally understandable that getting out to find a Christmas tree might get pushed further and further down the to-do list so consider your online options now so you can enjoy the holiday season with the scent of a fresh Fraser Fir in your home.
Check out Romper's new video series, Romper's Doula Diaries:
Watch full episodes of Romper's Doula Diaries on Facebook Watch.