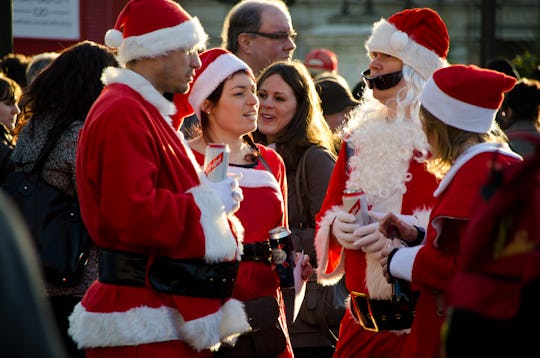 The Best Reactions To SantaCon, Because Twitter Has A Lot Of Feelings About The Big Red Suit
Ho, ho, ho — it's that time of the year again. And no, I'm not talking about the holiday season. The most wonderful time of the year is also time for SantaCon, a tradition involving dressing like Santa pub-crawling, caroling, and also raising money for charity. The festivities that celebrate the joy of getting lit (yeah, I don't mean like the Christmas tree) are going on across the country. America isn't the only place St. Nick is getting jolly; SantaCon is big in Vietnam, Germany, and Czech Republic too.
So what is SantaCon? Most of us are probably familiar with the celebration part of the occasion: one big, giant pub crawl where people dress up like Santa (and Rudolph, and Santa's elves, and Mrs. Claus) all with one goal in mind: spending the day (or whatever part you're awake for) drunk. It's fun. It's jolly. It's a good time if you and 16 of your closest friends want to wear ridiculously striped stockings and Santa hats and roam the city. But SantaCon also encourages attendees to really get into character and give, give, give — to local charities, that is. The hope is that once you pull off that Santa beard to soak up all that eggnog with some cheesy fries, you'll want to give back to charities and organizations who are giving they're all to those in need.
In New York City, SantaConners were in rare form. (Aren't they always?)
Here are some of the most memorable Santas I saw this year. Oh, yeah: I made a list (and I'm checking it twice, or is that just my blurry vision?).
Most Hilarious
Bad Santas
Signs The Struggle Is Real
Best. Santa. Ever.
Image: Garry Knight/Flickr