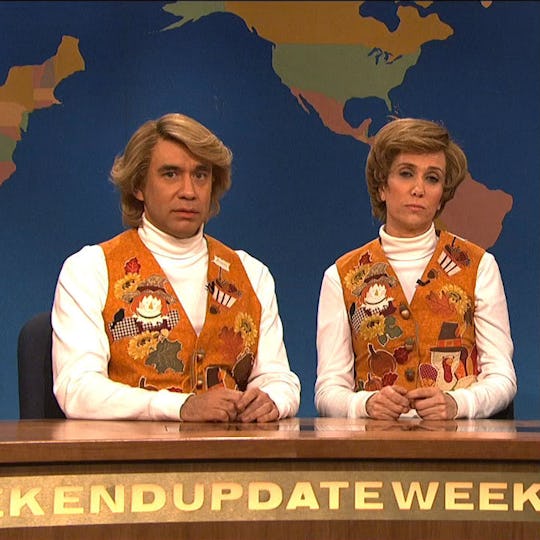 The Best 'SNL' Thanksgiving Sketches That'll Make You Thankful For Comedy
If you've ever experienced a bizarre, uncomfortable, or downright hilarious holiday dinner, Saturday Night Live probably has a sketch you can relate to. For the last 41 years, SNL has been making us laugh at the weird relatives and quirky significant others that gather 'round the table each Thanksgiving. So before you slip into that glorious gravy-induced food coma, make sure to check out the best SNL Thanksgiving sketches from over the years. 
You'll see a favorite recurring character or sketch slip into Thanksgiving mode, creating hilarious new catch phrases for everyone to wear out before the pumpkin pie is served. But my favorites are always the sketches created just for Turkey Day — the ones that truly honor the holiday without pulling form the SNL classics. From the catchy songs to the Thanksgivies award show, I always cry with laughter as I click through my favorites each year. 
So if you find your Thanksgiving going terribly wrong this year, flip through this collection of Weekend Update appearances, wonky family dinners, and parody songs to make your holiday a little happier (and a lot funnier.) There is no need to cry over burnt yams. Grab a slice of pumpkin pie, kick up your feet, and sing along to the questionable tunes of Garth and Kat (and don't worry if you don't know the words, they're just making them up as they go along.)