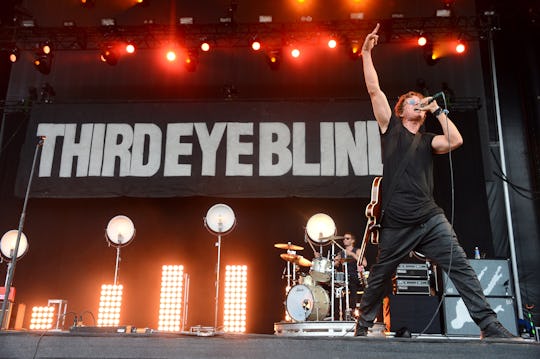 Theo Wargo/Getty Images Entertainment/Getty Images
The Best Third Eye Blind Quotes From Their Epic RNC Trolling Concert
Hey, remember Third Eye Blind? They're back, and they're using the power of pop rock to infuriate Republicans. At a benefit concert during the Republican National Convention on Tuesday, according to The Hill, the band spoke out against the GOP and refused to play most of their hits, instead torturing their Republican fans with new music. Concert attendees on Twitter posted videos and quotes from the Third Eye Blind show.
"You can boo all you want, but I'm the motherfu*ckin' artist up here," singer Stephen Jenkins told hecklers in the crowd. He also spoke out about acceptance of the LGBT community, urging fans to "take into your heart the message" behind the lyrics of the song "Jumper," and to "not live your life in fear and imposing that fear on other people"( "Jumper" is about Jenkins' gay friend who committed suicide). He also reportedly requested of concertgoers, "Raise your hand if you believe in science," according to Rolling Stone, which was met with more boos. Yes, people actually booed science. When one fan (or perhaps ex-fan) tweeted at the band's official Twitter account that she'd "never been more disappointed," they responded with a simple, "good." They also clarified, "we would never play the rnc. We played a charity event for musicians on call at the Rock and roll hall of fame."
This isn't the first time Jenkins has spoken out against the GOP, either. Last September, Rolling Stone produced a video where Jenkins explained the concept of climate change to Florida Sen. Marco Rubio, whose state Jenkins said is "literally sinking into the ocean." After referencing the 2012 GQ interview during which Rubio said he's "not a scientist," Jenkins says that he's not a scientist, either, "but I did take science in high school." He then goes on to succinctly detail what climate change is, and how it's caused by humans, a fact that Rubio has been repeatedly denying for years.
And in 2012, after the band declined to appear at a private party during the RNC, Jenkins wrote a piece for the Huffington Post explaining that, although they're "happy to play for Republican fans," playing at the convention would have would have been a "tacit endorsement" of "a party dedicated to exclusion" whose policies include "forced births of rapist's babies and minority voter suppression." Tuesday night's concert was not an official RNC-affiliated event, but a benefit for the charity Musicians On Call, which arranges live music performances for hospital patients. When asked if the band was worried about their performance's effect on the charity, they responded via Twitter that Musicians On Call is "well aware of who we are and our take on things." What a well-thought out troll.