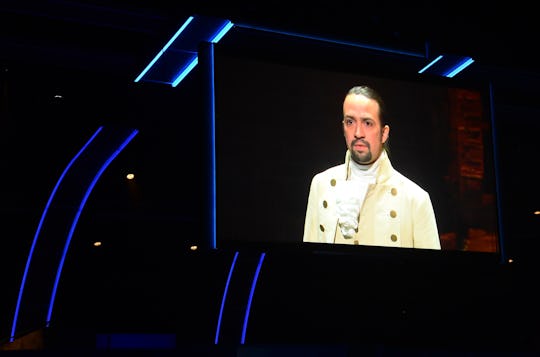 Robyn Beck/Getty Images Entertainment
The Best Twitter Reactions To The 'Hamilton' Grammys Performance Show We're All Theater Nerds
What do you get when you put one of the biggest breakout hits the Great White Way has seen in a while and the Grammys? Super giddy reactions out of people on social media! The "Twitter reactions to the Hamilton Grammys performance prove that fans could hardly contain their excitement.
Since Hamilton debuted on Broadway in August with a mix of history and hip-hop, it's gotten people interested in the Founding Fathers like never before. As The New York Times put it in a review of Hamilton, "It is a rare thing: not just a theatrical landmark, but a show that jolts our thinking about popular culture and casts new light on some of the most storied events in American history."
It turns out there may be a scientific reason why the songs from Hamilton are so addictive: According to Popular Science, Hamilton strikes a balance between eliciting physical and emotional responses out of people — and that is only increasing as Hamilton fervor grows. As musicologist Thomas Peach explained, "The music fuels the addiction to the community and the community fuels the addiction to the music." It's a not-so-vicious cycle.
Most of the Hamilton die-hards knew what to expect when the cast took the stage and freaked out appropriately.
Some others were catching the Hamilton bug for the first time.
Here's an idea, CBS: Next time, bring us the whole show!