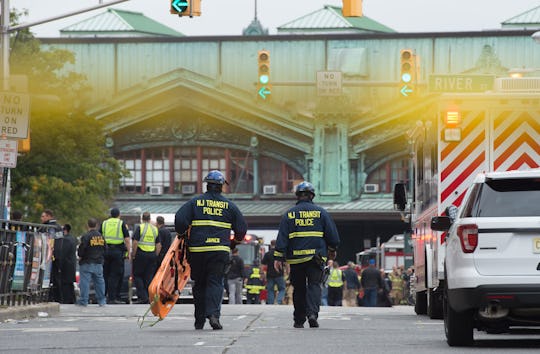 BRYAN R. SMITH/AFP/Getty Images
The Best Way To Help The Hoboken Victims If You Live In The Area
After a commuter train crash in New Jersey Thursday resulted in at least three deaths and dozens of injuries, many civilians following the story felt compelled to help. The best way to help the Hoboken victims if you live in the area may be to stay away from the train stations and clear the roads to make first responders' jobs easier, but there will likely be many more ways to assist in the days ahead.
Train No. 1614 left Spring Valley, New York, The New York Times reported; upon arrival in Hoboken at about 8:45 a.m., the train crashed into the terminal building. The train entered Hoboken Terminal at a high rate of speed and, according to CNN, hit the bumper block before skidding through the depot; normally, the train would come to a full stop at least ten feet from the bumper block. An official told CNN that the train's engineer was unresponsive when emergency responders found him.
Though news outlets reported between one and three deaths, only one person is confirmed dead following the commuter train crash, NBC News reported. It's possible that up to 100 people were injured, but New Jersey Gov. Chris Christie said that all victims have left the scene.
When news of the crash broke, individuals across the country took to social media to share their gratitude for the emergency responders and brave bystanders who helped to evacuate the train and get injured passengers to safety. For those living close to Hoboken in New Jersey and New York City, there's an added impetus to help. Though it can feel instinctual to get in the car and go to the train station to offer an extra set of hands, it may be best to keep the area clear of unnecessary traffic. When there are fewer vehicles on surrounding roads, it's easier for emergency vehicles to journey from the terminal to nearby hospitals. Staying clear of the station allows law enforcement to more easily maintain a controlled environment during their investigation. New York Gov. Andrew Cuomo tweeted to let commuters know that ferry service "from the nearby terminal" is also suspended. Anyone who would normally rely on the station in Hoboken for transportation this afternoon and evening may want to see if they can work from home.
In the days ahead, there are plenty of ways concerned New Jersey and New York residents can help. Giving blood is a good way to start. Even if a donation doesn't go directly to one of the people injured in the crash, it may help to replenish a depleted supply of blood available to nearby hospitals. There are six blood donation centers in New Jersey; call the closest center to learn donation guidelines and determine when and how to give. New Yorkers may want to contact the New York Blood Center.
After the crash, many civilians at the station worked alongside emergency responders to help injured passengers escape. Their heroism is extraordinary. But because they confronted a traumatic scene, they may find it residually challenging to process all that happened. The Simulation Training and Exercise Collaboratory (SIMTEC) of the Justice Institute of British Columbia developed a helpful PDF to help a civilian responder to a mass casualty incident evaluate their state of mind following a major incident. Family members and friends can review the resources provided and help a loved one affected by the tragedy talk through their concerns. They can also watch for signs of vicarious trauma that may be alleviated by professional support, then help their loved one find a crisis center, community group, or local counseling service that fits their needs. Civilian responders do a great deal to help others in the moment, but it's important that they're aware of what can be done to support them after it's all over.
Later in the week, those in the Hoboken area may want to call local fire and police stations to find out what can be done to support emergency responders who helped crash victims. From sending thank-you cards to catering homemade lunches and dinners, civilians can show their appreciation to officers and firefighters who are likely to be recovering physically and emotionally. People may also want to ask whether they can help coordinate fundraisers to alleviate medical costs for the families of injured train passengers. Even a bake sale or lemonade stand can make a big difference.
Watching a tragedy unfold on TV can make one feel helpless, especially when the incident happens close to home. But in the days following, even small contributions can lead to significant healing for the entire community.