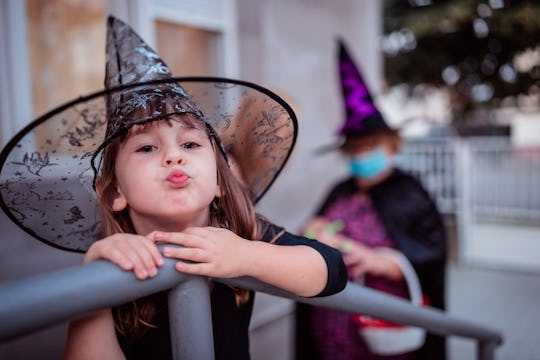 Dobrila Vignjevic/E+/Getty Images
The 13 Best Halloween Witch Costumes From Amazon Include One That Lights Up
Nothing says "classic Halloween" like a witch costume — and as the best witch Halloween costumes from Amazon show, there are a hundred different ways to style the witch look, from spooky to silly and back again. Whether you're dressing up like a famous witch character from a movie or a character pulled from your own imagination, you can't go wrong with those witchy vibes.
Witch costumes have long been a Halloween staple, and now there's more inspiration and creativity in costume options than ever before. First, there's the old-school fairy tale witch look (maybe carry around an apple basket for added suspiciousness). Then there are all the Hollywood witches, whether you're drawing from The Wizard Of Oz, Hocus Pocus, or the world of Harry Potter. And lastly, there's the gamut of other witchy costumes (there's even a witchy dress that lights up.) Plus, plenty of these costumes give you the opportunity to wear a giant robe or cape out in public, and there are far too few chances to do that in daily life. Whether you're dressing up as an adult or finding a costume for your kiddo (or both), there's a witch Halloween costume on Amazon for you.
We only include products that have been independently selected by Romper's editorial team. However, we may receive a portion of sales if you purchase a product through a link in this article.