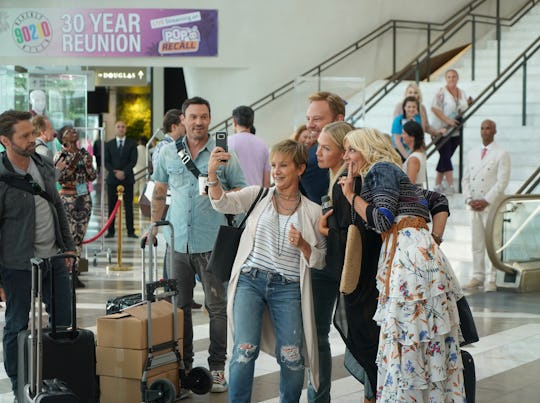 Shane Harvey/FOX
'BH90210' Is Bringing Back All Your Favorites With A Meta Reboot Twist
If the dulcet tones of the Beverly Hills, 90210 theme song inexplicably reminds you of the scent of jelly shoes and CK1, then some small part of you is probably looking forward to the series' sixth attempt at a reboot, even against your better judgement. Sure, The CW's 90210 — which tried to hook younger millennials from 2008-2013 — left a lot to be desired. But with a tight six-episode season, a super meta premise, and the original gang coming back together to form the BH90210 reboot cast, it's hard not to get excited about the next installment.
BH90210 takes a decidedly different turn from previous attempts at a reboot (which include 1992's Melrose Place, 1994's Models Inc., the aforementioned 90210, and a 2009 Melrose Place reboot). Instead, BH90210 features the original cast playing heightened versions of themselves trying to pitch a network to get a Beverly Hills, 90210 reboot made. Told you it was meta. The first three episodes are titled "The Reunion," "The Pitch," and "The Photo Shoot," to give you a sense of how they plan to shape the narrative.
Tori Spelling explained the concept in a February interview with E! thusly: "Think Curb Your Enthusiasm episodes, in an hour long show, and we're all playing heightened versions, so it could be fictional, it could be non-fictional, people will have to guess."
Here's who you can expect to return.