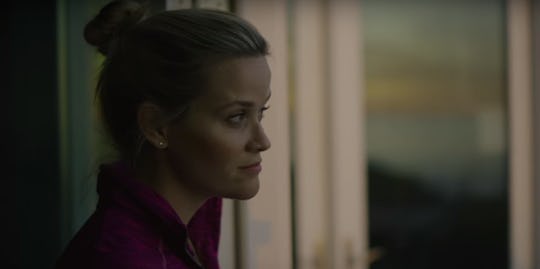 The 'Big Little Lies' Trailer Is Here & It Is Just As Mysterious As The Series Itself
They say a picture says a thousand words, but in the Big Little Lies trailer video, we get a thousand different puzzles. The teaser, which was released on Saturday, sets up a bunch of stories, but neglects to really say what the over-arching mystery of the show is going to be. David E. Kelley's adaptation of Liane Moriarty's best-selling book is set to come out in 2017, but until then, there's one big question not answered... what is Big Little Lies about? This show is an examination of all the big little lies we tell ourselves to survive. From this first look at the 7-episode HBO limited series, we learn that three mothers, Reese Witherspoon, Nicole Kidman and Shailene Woodley, who all have stories that intertwine — somehow. And with the song "Papa Was a Rolling Stone", married to images of moaning, and a gunshot, we can make an educated guess at what kind of drama will ensue.
The trailer opens at the beach, where we see a scenic view of waves crashing on the shore. It's not the kind of beach you're picturing though. This beach looks far more bleak than idyllic. This grim representation hints at the tone for the show, especially since it's characters are based in a beachside community.
"What do you look at in the ocean? What's out there? Monsters?" a little girl looks up at Witherspoon after looking out at the waves. "It's full of life, dreams, mystery… who knows what lies out there beneath the surface?" the Wild actress responds. As she says these words many images flash across the screen. First, we get a quick shot of the trio running together on the beach. More cuts parade the small screen clueing viewers in that there will be a lot of sex and secrets throughout the show. Along with a few sexy cutaways, an esoteric man, children, police lights, someone in a stretcher, Witherspoon covering her mouth in shock, and a gunshot mixed juxtaposed against aquatic scenes.
The last words we hear in the trailer are the lyrics "Mama, I'm depending on you, tell me the truth." As we hear these words, a child points to Woodley, as her smile disappears. Like the ocean, this show will definitely have a few monsters in it's depths, and a lot of mystery.
See if you can differentiate between the sharks, and those who will be swimming with the fishes in the teaser trailer above.