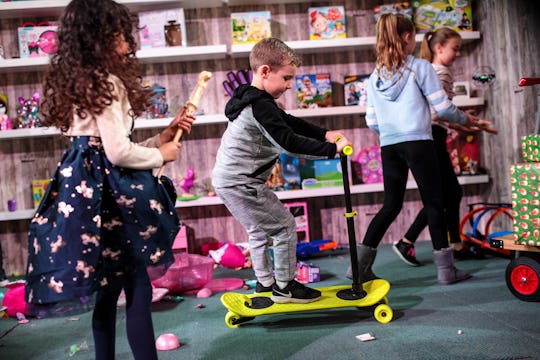 Jack Taylor/Getty Images News/Getty Images
The Biggest Sales On Toys Happen 10 Days Before Christmas, But There's A Catch
It seems like most parents fall into one of two categories when it comes to holiday shopping. There are the totally on-top-of it planners who start hoarding toys as they find deals — sometimes months before Christmas. And then they finish up that last bit of shopping by Black Friday. Boom. Done. Others? They don't even think about holiday gifting until they look at their calendar one day and realize, "Holy crap, it's Dec. 15 and I've done zero Christmas shopping." Turns out there's some good news for procrastinators: The biggest sales on toys happen 10 days before Christmas — but there's a catch.
Starting on Dec. 15 is when most toys see the deepest discounts, according to a press release from RetailMeNot. In fact, shoppers can expect to find an average savings of 23 percent off toys from Dec. 15 to Dec, 25. Which is clearly good news for parents/grandparents who tend to wait until the last minute to check off their holiday shopping list. Except, shoppers should take care to be strategic about this approach — especially if they're hoping to score one or more of this year's hottest toys.
"Retailers create hype around toy sales along with a sense of urgency to pick them up while supplies last. If shoppers are eyeing a specific toy that is in high demand, I urge them to pick it up as soon as possible," RetailMeNot's Shopping & Trends Expert, Sara Skirboll, said in the release. "If it's an item that can easily be shopped, resist the urge to splurge! Mid to late December offers great rewards. More savings and a happy kid — what more could you ask for?"
So yeah, if your kid has been begging you for pretty much anything on this PopSugar list of 2018's hottest toys, then you better get on it ASAP. Because it might already be too late. I made sure to snag a couple of Pomsies for my girls, as well as a Scruff-A-Luvs pet. I also managed to pick up a Yellies spider — which are already becoming difficult to find at this point, as I4U News reported — from Amazon right before the "on backorder" disclaimers started popping up everywhere. And if you haven't already, trying to find a singing Baby Shark plush toy/cube is nearly impossible, unless you want to spend five times the original retail price or more. (I pre-ordered three of the cubes for $7.99 each; now they're selling on Amazon for more than $50 apiece!)
Although it varies from year to year, I tend to start my holiday shopping fairly early — but then drag it out all the way up until a week before Christmas. This year, I managed to get a fairly good chunk of toy shopping done, courtesy of the Toys "R" Us going-out-of-business sale this past summer. (Because hey, when you can score 60-percent-off toys, then why not?) After that shopping spree, I chilled out for several months. And then by the time Black Friday rolled around, I was ready for round two.
To my fellow parents, I wish you luck as you wrap up — or begin — your Christmas shopping this year. And hey, if you do find yourself fighting the last-minute crowds at Walmart on Christmas Eve, at least you can expect some solid discounts!
This first-time mom wants to have a home birth, but is she ready? Watch how a doula supports a military mom who's determined to have a home birth in Episode One of Romper's Doula Diaries, Season Two, below. Visit Bustle Digital Group's YouTube page for the next three episodes, launching Mondays in December.