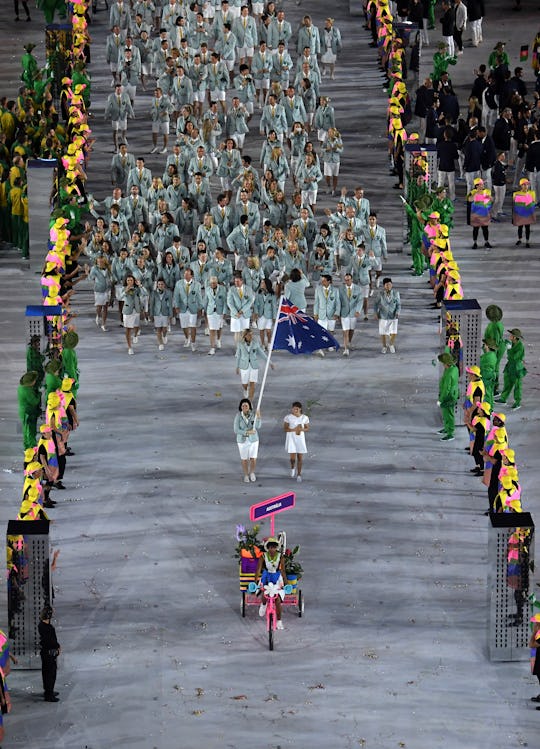 Richard Heathcote/Getty Images Sport/Getty Images
The Bikes Introducing The Athletes Echo The Olympic Opening Ceremony's Environmental Theme
Samba, feathers, glitter, drums, and...bikes? The Olympic opening ceremonies in Rio presented so many cornerstones of Brazilian culture, and others that were more, let's say, metaphorical. The bikes introducing the athletes were a nod to the environmentalist theme that the ceremony was designed around. Each country was led by its very own biker whose bike had its own ecological trimmings and trappings.
Brazil's Amazon rainforest was central to the environmental message, as were the themes of sustainability, global warming, globalization, and colonization. The ceremony began with the creation of the planet, with a reflective, foil motif. The ocean then took over with big, projected waves. What followed were, of course, the growing, winding trees of the rainforest. One of the directors of the show, Fernando Meirelles, explained the decision to go environmental, saying:
The world is very tense and so is Brazil. We are also willing to tell the world to stop attacking our home. The world is threatened because of global warming. We are calling for action.
An entire portion of the ceremony labeled "Global Warming" addressed rises in the earth's temperature over the past century as well as the melting of polar ice caps and the rising of sea levels. It illustrated the facts with global maps and diagrams as well as video.
As the athletes from each team marched proudly through the opening ceremonies, decked in their respective country's Olympic uniforms, bicycles led the way, wheeled by very cheerful and animated bikers. The teams paraded in alphabetical order according to their Portuguese name.
Noticeable among the bikers were their bright, fluorescent outfits and hats. Pinwheels, watering cans, and flowers elaborately decorated each cart, and all of the designs were perfectly unique. And, actually, each ride had three wheels, which technically renders them tricycles, not bicycles. Men and women alike were proud to usher in the various teams, displaying huge smiles and waves.
Though they would seem like an unarguably positive aspect to the opening ceremonies, some people felt slighted by the bikers. Read the tweets below to learn why:
Regardless, the bikes were a bright light in an equally vibrant framework. In such a subtle way, they nodded to the global issues that Brazil would like to highlight in lieu of the local, political issues that the country has tried to downplay in the days and weeks leading up to the games. The bikes held seeds that will be planted to create an "athlete's forest" in Rio. The lively opener set a tone that perpetuated its intended, optimistic energy.