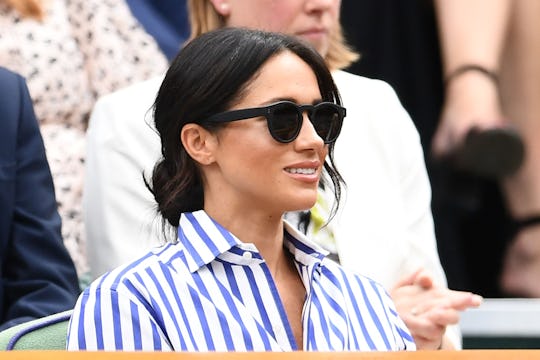 Clive Mason/Getty Images Entertainment/Getty Images
The Birthday Wish Meghan Markle Makes Every Year Is So Powerful
It seems that a little extra fanfare is in order in the UK this weekend. That's because Aug. 4, is Meghan Markle's birthday! Yep, the Duchess of Sussex — the former American actress who tied the knot with Prince Harry in May — turned 37 on Saturday. Which means Markle is celebrating her first birthday as an official member of the British royal family. In the past, the former actress has marked her special day in the same meaningful way: With a wish. And the birthday wish Meghan Markle makes every year is powerful.
You know that old tradition of blowing out the birthday candles and making a wish? Well apparently, through the years, Markle's mother Doria Ragland has inspired to reflect on her life on her birthday — and make a few wishes, too, The Mirror reported. "My mom has always said that birthdays are your own personal New Year," Markle wrote on her now non-existent The Tig lifestyle website back in 2016. "Your own chance to make resolutions just for yourself and what you prognosticate for your year ahead." Markle also revealed what she wishes for each year on her birthday: "More surprises, more adventure, more opportunities to grow, more days filled with giggles and cheeky jokes, more delicious meals, and more inspiration. Always more inspiration."
What a cool perspective on adding another year to your age, right?
As inspiring as her current outlook on life is, it's worth noting that Markle has come a long way in finding happiness in her 30s — and didn't always have as positive of an outlook. "My 20s were brutal — a constant battle with myself, judging my weight, my style, my desire to be as cool/as hip/as smart/as 'whatever' as everyone else," Markle also wrote in 2016, according to Elle. "My teens were even worse – grappling with how to fit in, and what that even meant. My high school had cliques: the black girls and white girls, the Filipino and the Latina girls." She continued:
Being biracial, I fell somewhere in between. So everyday during lunch, I busied myself with meetings – French club, student body, whatever one could possibly do between noon and 1pm- I was there. Not so that I was more involved, but so that I wouldn't have to eat alone.
It's clear that Markle has come such a long way since these days of self-doubt.
In honor of Markles big day, Twitter users from across the world shared birthday messages of celebration. One person tweeted, "It is officially Aug 4th in London & I want to wish a #HappyBirthday to America's favorite princess— Meghan Markle. Yes she's the #DuchessofSussex but for tonight I'm going to call her by her birth name because she is our girl and we her. Many blessings!"
As another Twitter user pointed out, Meghan Markle also happens to share her birthday with an important public figure in the U.S.: Former President Barack Obama. They wrote, "Happy birthday to former President @BarackObama who turns 57 today! A big day across the pond too with with Duchess #MeghanMarkle turning 37!"
Yet another person tweeted, "HAPPY BIRTHDAY to this beautiful soul #MeghanMarkle May the year ahead be filled with all the love, joy, health and happiness in the world! You are SO loved!"
Fun fact: Markle also happens to share her birthday with another important member of the royal family, Hello! magazine reported. That's because Queen Elizabeth II's mother, Elizabeth Angela Marguerite Bowes-Lyon — also referred to as the Queen Mother — was born on Aug. 4, 1900.
So how will the Duchess of Sussex be spending her first birthday as a member of the royal family, you ask? As Hello! magazine reported, the birthday girl will actually be attending the wedding of one of Prince Harry's best friends, Charlie van Straubenzee and Daisy Jenks. Harry will reportedly be serving as an usher the affair. Although Markle will be "sharing" her big day (and the spotlight) with the couple, I have a feeling she won't mind.
I think it's amazing to see how Markle has matured and changed with each decade of life. And yet, her birthday wish has remained the same through the years. If you ask me, seems as if her 30s will be her best yet. Happy birthday, Meghan Markle!