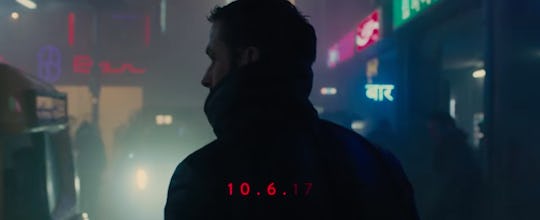 The 'Blade Runner 2049' Trailer Invites Fans Back For The Highly Anticipated Sequel
Fans of Blade Runner will be pleasantly surprised Monday with the worldwide release of the trailer for the sci-fi classic's sequel, Blade Runner 2049. The trailer just debuted, and it's first look leaves much to the viewer's imagination. The 2-minute teaser shows LAPD Officer K, played by Ryan Gosling, in an atmospheric Los Angeles. The role is much darker than Gosling's recent performance in La La Land. We see him walk through what looks like polluted air and an almost dystopian city that once was full of life and hustle. Denis Villeneuve (Arrival) directs, so it's fitting that the film feel a little alien-esque. In the trailer, Officer K enters a space where he encounters a gun-wielding Rick Deckard, a highly anticipated role reprised by Harrison Ford.
The look of the film is very similar to the gritty 1982 original. The sequel has a futuristic aesthetic with neon lights, while the presentation of Officer K looks very neo-noir. The officer wears a long, detective-like trench coat, which is appropriate since it looks like he's been hunting down the whereabouts of Deckard. Also, alike the first film, the large statue head we see in the trailer does a good job of making the film appear post-apocalyptic. The statue head is a lot like the famous Statue of Liberty scene in the 1968 Planet of the Apes film, which is perfect since it also references a scene from the future.
As you can see for yourself above, it's hard to tell what's really going on from the trailer, but since it concludes with a shot of Ryan Gosling walking from behind, we can predict that the story will follow his journey. Here's the synopsis courtesy of Alcon Entertainment:
Thirty years after the events of the first film, a new blade runner, LAPD Officer K (Ryan Gosling), unearths a long-buried secret that has the potential to plunge what's left of society into chaos. K's discovery leads him on a quest to find Rick Deckard (Harrison Ford), a former LAPD blade runner who has been missing for 30 years.
The exchange we see between Deckard and Officer K is not a friendly one. "I did your job once. I was good at it," the blade runner vet tells his young, unwanted visitor. "Things were simpler then," Gosling responds as the tension seeps off the screen.
Ana de Armas, Robin Wright, Jared Leto, Barkhad Abdi, Lennie James, Mackenzie Davis, and Sylvia Hoeks also star in the long-awaited sequel. Fill in Denis Villeneuve's blanks Oct. 6, 2017.