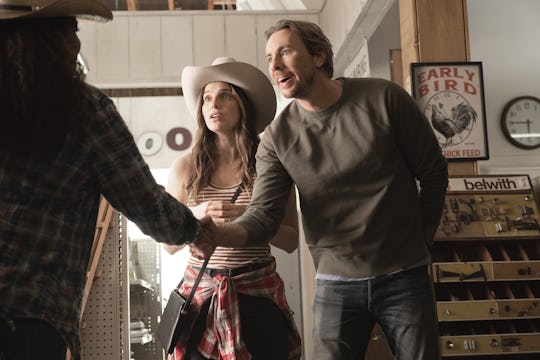 John Fleenor/ABC
The 'Bless This Mess' Cast Is Super Recognizable — Here's Where You've Seen Them
ABC's newest family sitcom is co-created by its star, Lake Bell, and the creator of New Girl, Elizabeth Meriwether. But the Bless This Mess cast is full of industry veterans and the show's plum time slot opposite ABC's black-ish bodes well for the freshman series. In Bless This Mess, which, yes, lifts substantially from Green Acres in terms of plot, newlywed couple Rio and Mike, played by Bell and Dax Shepard respectively, relocate from their overwhelming New York City lives to run a farm in Nebraska left to Mike by a deceased relative.
Constance, the county sheriff, is played by the legendary Pam Grier, who herself owns a farm in Colorado. In an interview with The Daily Beast, she revealed her skepticism that Bell, an LA actress, and Meriwether, a writer/producer from Chicago, could realistically depict farm life. But she was coaxed to sign on, and once she saw the scripts, Grier was hooked.
Ed Begley, Jr., another actor with a decades-long career, plays the couple's eccentric and boundary-challenged neighbor Rudy, while fresh-faced JT Neal plays Jacob, an equally oddball teenager whose parents own the farm next door. Read on to find out more about where you may recognize these names and faces from.