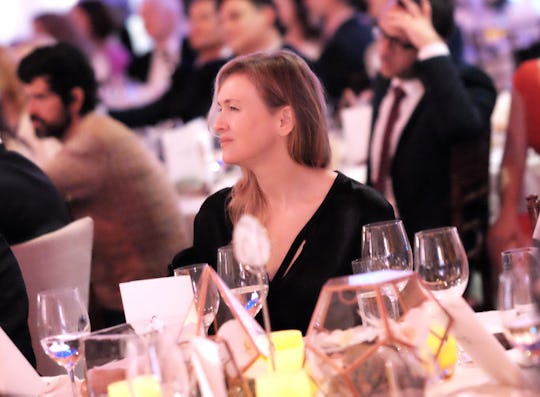 Jason Kempin/Getty Images Entertainment/Getty Images
The 'Bridget Jones's Baby' Trailer Is Cheeky & Awesome
Fans of author Helen Fielding's early 2000s bestselling books and movies, Bridget Jones's Diary, are in for a treat: Bridget Jones is back — and oh my word... there's a baby on board! Reneé Zellweger spoke about reviving her titular role during her first appearance on The Ellen Show Wednesday morning, and treated viewers to an exclusive first look at the Bridget Jones's Baby trailer. While no specific release date was announced, the movie is set to premiere sometime this year.
It may have been over a decade since fans last saw Zellweger as Ms. Jones gallivanting about London with her ever conflicted roster of suitors: At the end of Bridget Jones: The Edge of Reason, Bridget ecstatically catches the bouquet at her parents's vows renewal, just after Mark Darcy — played by actual Mr. Darcy actor, Colin Firth — has proposed to her. The Bridget Jones's Baby trailer reveals that it wasn't the happy ending fans were left hoping for after the credits rolled: Bridget is once again alone her in apartment eating a cupcake and listening to Celine Dion's "All By Myself." But it hasn't been all bad for Ms. Jones, as you can see in the trailer below:
As much as Bridget Jones's Diary and The Edge of Reason were time capsules of the early 2000s, it would appear that the perpetually single Bridget has kept up with the times with career success and enjoying life in her early forties. There's just one teeny tiny hitch in the plans: She's pregnant — and she's not sure who the father is.
It's clear that it's not Bridget's former boss and ex-boyfriend Daniel Cleaver, played by Hugh Grant in the previous two films: Grant is noticeably absent from the trailer and his name is nowhere to be found on the Bridget Jones's Baby cast list on IMDb. However, it seems as though her latest love/baby daddy triangle is between Mark Darcy and a newcomer played by Patrick Dempsey; while the trailer doesn't reveal Dempsey's character's name, IMDb lists it as Jack Qwant. In the trailer, the ever clumsy Bridget manages to fall at Jack's feet at a music festival that resembles Coachella. (Classic Bridget.) Jack slips a muddy shoe onto Bridget's foot — a definite callback to Dempsey's role as Robert Phillip in the 2007 film, Enchanted.
I can't wait to see what Bridget thinks of the joys of pregnancy and its sea of hormones. She'll definitely have give up smoking and drinking — although it's hard to picture Bridget without her staple accessories of a cigarette in one hand and a bottle of vodka in the other. And while Bridget Jones's Baby falls prey to the familiar "Who's Your Daddy" movie trope, I have a feeling that the plucky Bridget Jones of 2016 will tackle her latest life adventure with plenty of quirky sarcasm — and a lot less booze.