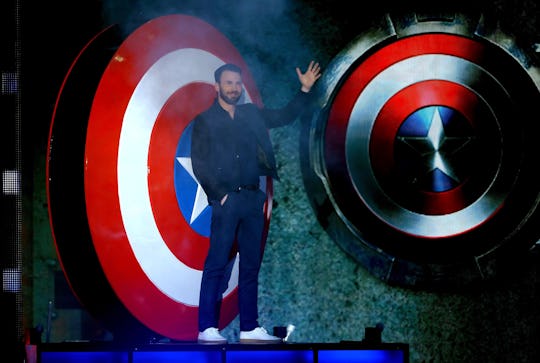 Kevin Winter/Getty Images Entertainment/Getty Images
The 'Captain America: Civil War' Sneak Peak At The MTV Movie Awards Was Amazing
Fans of the Marvel cinematic universe rejoiced when Chris Evans, looking incredible in his leather jacket, appeared on the MTV Movie Awards. Evans was there, of course, to treat audience members to a little preview of the film for the character he has made famous, Captain America. So, of course the Captain America: Civil War sneak peak at the MTV Movie Awards was amazing, because how could it not be? Especially because Marvel is great (but especially because of Chris Evans).
Fans have been waiting to catch a glimpse of the latest clip from Captain America: Civil War, the third film in the Captain America series and the thirteenth film in the Marvel cinematic universe for some time now. The MTV Movie Awards are used to promote upcoming films from the summer, so it was no surprise that Evans would be there to promote Captain America: Civil War — just an added bonus on an already exciting night (fans were also treated to sneak peeks of Suicide Squad and Fantastic Beasts).
The Civil War clip featured Captain America in action, fighting off bad guys and joined by friends and colleagues Falcon and Scarlet Witch. Tony Stark, or Iron Man, was also heavily featured in the short clip now available to watch on MTV's website. Even though the clip was only 1 minute and 16 seconds, it covered a lot of plot and action during its timeframe and fans loved it.
Captain America: Civil War is the latest sequel in the Captain America films — and likely the last official, dedicated Captain America film (at least for the time being). That might get some fans down, but it will also make this movie so much better and worth the wait. According to MTV, the film "marks the end of Steve Roger's and Tony Stark's friendship, as Captain America finds himself at odds with the genius playboy billionaire philanthropist." This also means that the film will break the the Marvel Cinematic Universe in half — a sad occasion but also very exciting for the MCU in general.
According to Entertainment Weekly, the scene shown in the MTV clip sets the central and initial conflict of the film — Governments of the World vs. Rogue Superheroes. With the Avengers at a crossroad, it should be incredibly interesting to see how subsequent films play out.
Luckily, fans of the Captain America series and the Marvel cinematic universe don't have to wait much longer. The film hits theaters May 6 — only less than a month away — and I for one am super excited for that to happen.