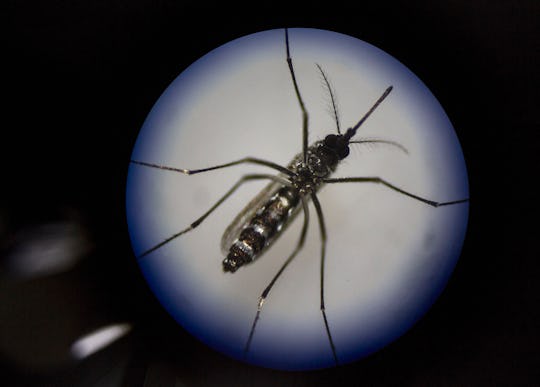 Kevin Frayer/Getty Images News/Getty Images
Couples Trying To Conceive Will Be Glad To Read The CDC's New Zika Travel Guidelines
Although Zika — the mosquito-borne virus that can cause birth defects in babies — isn't as ubiquitous this summer as it has been, it still remains a threat, especially to pregnant women or those looking to get pregnant. In 2016, the threat of Zika required people to reconsider their travel destinations if they were trying to conceive. This is why it is still so important to pay attention to the guidelines issued from the Centers for Disease Control and Prevention. Luckily, the CDC's new Zika travel guidelines, which were updated last week, could bring good news to those looking to become pregnant or go on a tropical vacation in the near future.
The CDC has advised pregnant women or those looking to be pregnant within the year to be wary of traveling to areas all around the world with an elevated risk of Zika infection, because of the impacts Zika can have on pregnant women. But the CDC made a major change last week when they updated one guideline that could seriously affect some travel plans, according to Cosmopolitan. Before this update, if men traveled to areas affected with Zika, it was recommended that they wait six months to have unprotected sex and attempt to conceive — even if they weren't bit by a mosquito during their travels, according to Cosmopolitan.
But, this new guideline states that men should only wait three months to have unprotected sex and attempt to conceive after traveling to an area affected by Zika, according to the CDC. Which may bring some couples a sense of relief; when it comes to trying to get pregnant, six months may be a long time to wait, after all.
This means that the guidelines for both partners, if they traveled to a Zika affected country, have changed, too. If both partners have visited an area that is at risk with Zika, then they should wait three months before not using condoms or attempting to conceive, according to the CDC, even if both partners are not displaying any Zika symptoms, which include fever, rash, and headache. This is because Zika can be sexually transmitted between partners, according to the CDC.
This guideline update can be super helpful for women who are planning a tropical vacation with their partner any time soon and expecting to conceive within the next year. Although Zika might not seem as prevalent this summer as it has in years past, popular vacation destinations in the Caribbean, Pacific Islands, and South America (among others), still carry a Zika risk.
It's important that women and their partners do wait this period of time between traveling to a country affected by Zika and having unprotected sex. As a new study conducted by the CDC found, birth defects related to Zika have significantly increased, according to U.S. News & World Report, with 1 in 7 babies having health problems reportedly caused by their mothers potentially being infected with Zika. According to the CDC, 6 percent of those babies had Zika-associated birth defects, which include things like small head size, brain damage, or eye damage, and 9 percent of those babies had nervous system problems possibly caused by Zika.
Bottom line? Zika is still presents such a high risk for women who are expecting and their future children, even if headlines about the virus are disappearing.
This good news comes on the heels of another major update; in April, new research found that Zika remains in semen for a much shorter time period than initially reported, according to CBS News.
Although these updates are encouraging, it's important that everyone still takes precaution when it comes to Zika. If couples or women who are looking to conceive or get pregnant have traveled to an "at risk" area for Zika, then they should should use protection until the recommended wait time is over, according to TIME, or choose another destination for their vacation.
Indeed, this newest update definitely changes things for hopeful parents, but people should still be extremely cautious.