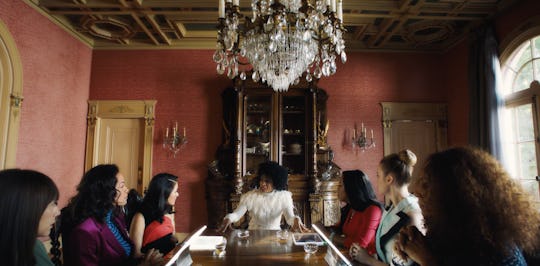 Tidal
Did You Catch *All* The Celeb Cameos In JAY-Z's "Family Feud" Video?
So I just finished watching JAY-Z's newest music video and if I wasn't already sitting down I would need to sit down. But let's start our discussion with all the famous people who took part in this masterpiece. All the celeb cameos in JAY-Z's "Family Feud" prove that literally everyone wants to be in a JAY-Z and Beyoncé music video. I mean, don't you? Especially if it means I get to play one of the women JAY-Z imagines literally running the world in a few years.
So I'll admit, when the video started, I was confused. What, exactly, does 2444 mean? And what is happening with all of this dynastic in-fighting and blue hair? That's when the story got rolling and I started to understand, except then Jessica Chastain showed up and I had to take a breath. And then there was Mindy Kaling and Niecy Nash and oh wait is that Rashida Jones? Is that everyone ever? Yes, it was all of those people and More. Kaling was in fact kind enough to post a photo with most (though not all) of the celebrity cameos featured in the video. I was prepared to see Beyoncé (our Queen) and the Princess Blue Ivy, but I was not prepared for all of this.
The complete list of celebrity cameos featured in the video is as follows: Omari Hardwick, Jessica Chastain, Michael B. Jordan, Thandie Newton, Trevante Rhodes, Emayatzy Corinealdi, David Oyelowo, America Ferrera, Storm Reid, Brie Larson, Rosario Dawson, Rashida Jones, Mindy Kaling, Constance Wu, Niecy Nash, Susan Kelechi Watson, and obviously, Blue Ivy and her mom, Beyoncé Knowles Carter. That is easily the most racially diverse group of bad ass women I have ever seen on screen including some of my very favorite actors. I would be living for this if I were not already dead.
The video was directed by Ava DuVernay, and I would personally like to nominate it for Best Whatever at every awards ceremony. The story starts in the imagined year of 2444 with the world's leaders coming undone due to some family in-fighting and murder. Naturally. We then flashback to some strife, a flawless Jessica Chastain, some war, and then our narrator explaining that his ancestor was one of the chief architects of the "confessional papers" and one of America's "founding mothers." If that doesn't warm the cockles of your cold feminist heart than I don't know what will.
This is when we see all of these badass multiracial women sitting around a boardroom table, revising the Constitution, and arguing gun rights in the year 2050. Apparently, women have finally taken over all the positions of power by this time (just 32 more years, ladies!) and the decisions they make will have lasting effects even 400 years into the future. "This was at a time, mind you, when some thought that making America great meant making us afraid of each other," our narrator says.
It turns out that the woman at the head of the table is... a grown up Blue Ivy! "America is a family and the whole family should be free," she says. "It's like I remember my father saying when I was a little girl, 'Nobody wins when the family feuds.'" Cue the beat and the last of my lifeblood. The future is female! And it is lead by Blue Ivy Carter who was raised by clearly very proud parents!
So basically, I am obsessed with this. And I would like to personally thank every hero famous person who showed up here because you have made my Friday.
Check out Romper's new video series, Romper's Doula Diaries:
Watch full episodes of Romper's Doula Diaries on Facebook Watch.