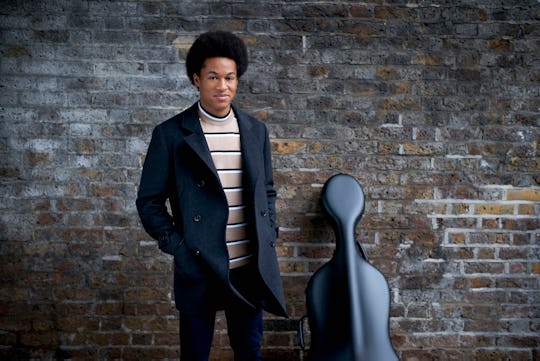 Handout/Getty Images Entertainment/Getty Images
Twitter Can't Stop Talking About The Cellist's Socks At The Royal Wedding
One of the best things about the royal wedding on Saturday was the music. From the tearjerker rendition of "Stand By Me" (I'll never get over it), to the gorgeous song Meghan Markle walked down the aisle to, the music at the nuptials was on point. As amazing as the wedding tunes were, however, it looks like people are more impressed with the cellist's socks at the royal wedding. Yes — a pair of socks stole the show, and Twitter is 100 percent here for it.
Before I get to the main event here — aka the socks — it's important to first know who the cellist is. The impressive musician is none other than 19-year-old Sheku Kanneh-Mason, a former contestant on Britain's Got Talent, according to The Sun. Kanneh-Mason also won the BBC's Young Musician of the Year award in 2016, and he was the first ever black musician to win the coveted honor, according to CNN. In short, Kanneh-Mason is a pretty talented young man — a sentiment Harry undoubtedly agrees with considering he was the one who recommended the cellist to play at the wedding. "Last June, Prince Harry saw Sheku play at an event in London in support of the work of Antiguan charity the Halo Foundation," Kensington Palace confirmed in April via Twitter.
But as accomplished as Kanneh-Mason clearly is, it's not his talent that has people in a frenzy. Nope. In an unforeseen twist, the internet is obsessing over Kanneh-Mason's colorful and polka dot socks. All hail Twitter's new crush — cello bae.
"I am in love with cellist Sheku Kanneh-Mason's socks," one fan gushed on Twitter.
"Best fashion statement among the guests: The cellist's socks," someone else added.
"This music is beautiful. The cellist is superb. But his socks have stolen the show. #RoyalWedding," another person chimed in.
"The cello guy has nice socks" - texts from my mother. #RoyalWedding," one fan joked.
"The cello player is great, but his socks deserve extra applause," another smitten person wrote.
Yeah, I think it's safe to say these socks are officially famous. One can only hope some eagle-eyed fan will be able to find out who designed the socks so people can purchase them. I can't think of a better gift to commemorate the royal wedding.
Socks aside, it seems like people are also enamored with Kanneh-Mason's talent and success. Following Kanneh-Mason's adorable tweet on Saturday about heading off to St. George's to play at the wedding, a ton of fans took the post's comments section to congratulate him on his performance.
"Oh my how wonderfully you played. Congratulations. You have a new fan," a particularly impressed person wrote, according to Twitter. "All the good blessings young man. May you spread your talents throughout the world and inspire other young people to pick up an instrument. Music will heal this world."
"Bravo! You were magnificent! I wish you played at my wedding, but you would've been 2 years old," another fan joked. "I still think you could've nailed it!"
"Beautiful performance," someone else agreed. "My son plays cello and we can only hope he plays at your level one day."
Wow. Kanneh-Mason must be feeling so amazing right about now. In fact, Kanneh-Mason said as much in an email statement to Bustle:
It was just such an awesome moment — just really incredible to perform for Prince Harry and Meghan at their wedding! The atmosphere was amazing and I'm proud to have played a small part in the celebrations. It's a day I will remember for the rest of my life.
Awesome moment, indeed — socks included. Bravo, Kanneh-Mason.