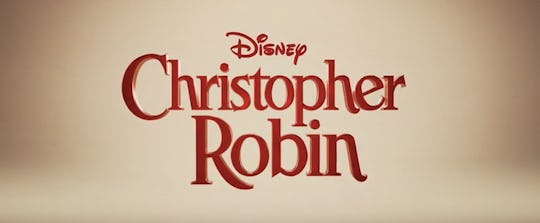 Walt Disney
The 'Christopher Robin' Trailer Is Here & Will Rekindle Your Love For 'Winnie The Pooh'
Christopher Robin is Disney's newest live action effort, and it's one that comes with a healthy helping of nostalgia. It may make you wistful for a childhood spent watching cartoon animals amble around the Hundred Acre Woods together, especially since the plot echoes that feeling of looking back on a time in your life that has since ended. The Christopher Robin trailer has arrived, and it will tug at your heartstrings.
According to ComicBook.com, the official synopsis states that Ewan McGregor stars as the titular Christopher Robin, the young boy who once enjoyed countless adventures with Pooh, Piglet, and the whole crew. He has since "grown up and lost his way," becoming consumed by work to the point of ignoring his wife (Hayley Atwell) and young daughter (Bronte Carmichael). After coming across his old stuffed animals, those very same childhood pals must help him regain his past sense of whimsy. When some kind of "unfortunate mishap" occurs with his briefcase, Pooh and company decide to travel to London to fix what went wrong.
In addition to McGregor and Atwell, viewers might recognize the actors lending their voices to the various CGI stuffed animals: Jim Cummings will be voicing Winnie the Pooh, with Chris O'Dowd as Tigger, and Peter Capaldi as Rabbit. Mark Gatiss, Sophie Okonedo, Toby Jones, and Brad Garrett co-star as well.
The first poster was released prior to the trailer, and it featured a telling tagline: "Sooner or later, your past catches up to you." While that could easily be the tagline of a horrifying thriller, in this case it's the kind of past you want to catch up to you, as expressed by the adorable image that accompanies it. On an all-white background is a picture of Pooh himself with (presumably) Christopher Robin's too-big hat slipping down to obscure his face. Behind him is the pesky briefcase in question.
The trailer opens with Christopher Robin's dour life in London, dominated by work and very different from the more idyllic countryside of his childhood. He has to skip out on a trip back home to handle business matters, instead sending his family on ahead without him. It's not a decision that sits well with him and he finds himself on a park bench, feeling utterly lost and uncertain how to resolve the problems in his life. Luckily, someone arrives ready to help: a slightly bedraggled Pooh, who hasn't forgotten the friend who passed so much time with him way back when. Though both Pooh and Christopher Robin are both a little bit older, they haven't lost the connection that made their friendship so special once upon a time.
Disney has had success in the past few years with updating its classics as live action films. Though audience reactions may have been mixed depending on the movie, it was hard not to get excited for Beauty and the Beast, The Jungle Book, and Cinderella before their release. The upcoming Mary Poppins Returns also brings an iconic older film to a new audience, so it seems like this is a formula Disney will be sticking to for the foreseeable future. (In the Age of Reboots, no one is surprised by that.)
Not only will Christopher Robin himself get to revisit his happy childhood, but perhaps audiences can take a break from their own stressful adult lives to remember days gone by. The movie will undoubtedly appeal to kids, but there's also something comforting about adults getting to experience the title character's journey right along with him. Christopher Robin promises to be a welcome trip back to a very magical childhood.
Check out Romper's new video series, Romper's Doula Diaries:
Watch full episodes of Romper's Doula Diaries on Facebook Watch.