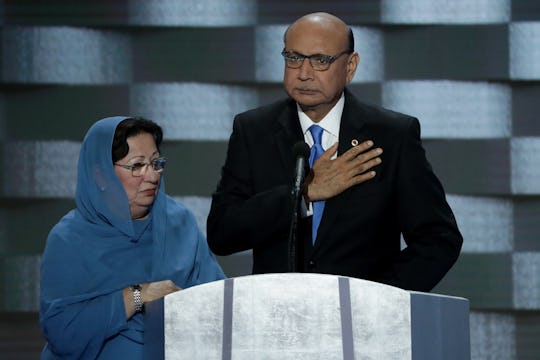 Alex Wong/Getty Images News/Getty Images
The Clinton Ad Featuring Khizr Khan Makes Us Wonder What Trump's America Would Look Like
In August, GOP nominee Donald Trump came under fire for making light of a supporter giving him his Purple Heart. "I always wanted to get the Purple Heart," he said. "This was much easier." Among veterans and military families who criticized Trump in the days following, Khizr Khan stood out. Khan's son was a Muslim-American soldier who died on duty in Iraq. Not only did Khan call out Trump's disrespect for the sacrifices of military members and family, but he also called out Trump's false theory that all Muslims in America were dangerous. Now, Khan is doubling down on the latter, according to CNN. In a Hillary Clinton campaign ad, Khizr Khan tells the heartbreaking story of his son's death and asks Trump a question that makes us all wonder.
This might be one of the Clinton campaign's best ads yet. The video follows Khan in his home and features photos of his late son, while Khan narrates:
In 2004, my son was stationed in Iraq. He saw a suicide bomber approaching his camp. My son moved forward to stop the bomber when the bomb exploded. He saved everyone in his unit. Only one American soldier died. My son was Capt. Humayun Khan. He was 27 years old, and he was a Muslim-American. I want to ask Mr. Trump, 'Would my son have a place in your America?'
After proposing a ban on all Muslims entering the country, Trump has stuck with his belief that Muslims are a threat to the United States. He's continued to provoke Islamophobia, and he even possibly contributed to a spike in hate crimes against Muslims, according to the Atlantic. (Trump's campaign did not respond to Romper's request for comment regarding allegations that his rhetoric has contributed to a rise in hate crimes.) But Khan's son, Capt. Humayun Khan died protecting the United States, which directly disproves Trump's ideas about Muslims.
But the video isn't the first time Khan has expressed his support for the Democratic nominee. He did so earlier this year during the Democratic National Convention, where he gave a moving, fiery speech. The Gold Star father of a decorated late soldier gave a speech that, according to one New York Times writer, "electrified the convention and turned Mr. Khan into a social media and cable news sensation."
It was certainly the most memorable speech of the convention, and it was a direct response to the Islamophobia Trump had been spreading in his campaign. Trump responded by criticizing Khan and his wife, who appeared silently by her husband's side during his speech. In his response, Trump disrespected both veterans and Muslim-Americans, warning a lot of Americans that a Trump presidency might not be so "great" after all. And now, Khan is firing back in a subtle but moving way. Khan is making us all wonder, who would have a place in Trump's America?