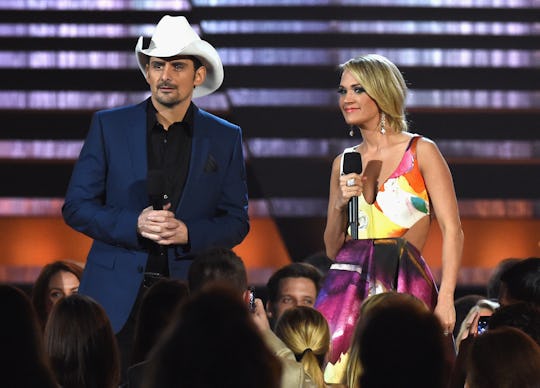 Rick Diamond/Getty Images Entertainment/Getty Images
The CMAs Opening Monologue Was Politically Themed & A Little Bit Awkward
This year, the Country Music Awards fell at a very interesting time — one week before Election Day. And when hosts Brad Paisley and Carrie Underwood performed their opening monologue ahead of the 50th Anniversary celebration on Wednesday night, it was hard for them not to ignore the timeliness of the whole thing. Unfortunately, the politically themed CMAs opening monologue was kind of awkward (to say the least) — but Underwood and Paisley still did their best to make it work.
Underwood and Paisley are quite the dynamic duo — they're both incredibly talented country music stars with dozens of awards back at home to prove it. But just because they're music stars doesn't mean that they're comedians. During the show's opening monologue, Underwood and Paisley used their knack for being beloved country music stars to talk about what else? The election — because lets be real, the election is all anyone, even country music's biggest stars, can talk about these days.
Paisley started in with a few jokes at Hillary Clinton's expense — "I'm With Carrie," a take on Hillary Clinton's slogan "I'm With Her" — before Underwood took things a step further by mentioning that the attendees would take home a "gift basket of deplorables." Seriously. Underwood and Paisley did their best to include every kind of political reference in their monologue — throwing in a few "bigly" jokes and having Paisley call Underwood a "nasty woman," after interrupting her repeatedly with flat-voiced "wrong's." While the jokes were relevant, they were kind of awkward — especially since the election is so soon and many people are so sensitive about the subject matter discussed during the opening monologue, but also because, seriously, it felt forced and awkward as hell.
But while some of Underwood and Paisley's politically charged jokes fell kind of flat with audience members at home, you could definitely tell that a good time was had by all — and the hosts did do their best, which no one could blame them for. Better still, it seemed people on Twitter loved it:
Before the slightly-awkward-yet-hilarious-and-politically-charged opening monologue, there was much more important performance that opened the show. Country music stars joined together to sing a tribute to country music legends and classics, in honor of the show's 50th anniversary.
Perhaps the most touching part of the opening was when country music stars gathered to sing "For Ever and Ever" as a tribute to country music singer and the newest member of the Country Music Hall of Fame, Randy Travis. Travis, a massive country music star, suffered from a massive stroke three years ago. Two weeks ago, at the Country Music Hall of Fame, Travis sang publicly for the first time in three years. At the CMAs tonight, Travis sang the final amen in the opening song and it was beautiful.
For their ninth year in a row hosting together, Underwood and Paisley did a fantastic (albeit awkwardly adorable) job together — and if nothing else, at least their fans at home had a good time.