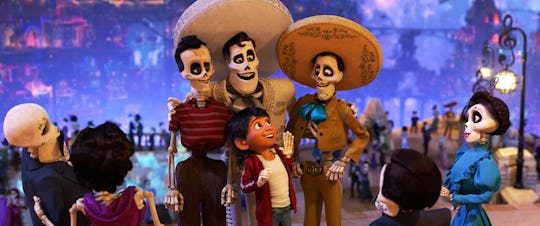 Disney•Pixar
The 'Coco' Cast Proves Pixar's Newest Family-Friendly Film Is Full Of Talented & Diverse Performers
When Disney and Pixar join forces, it seems like magic happens. Their newest collaboration, the animated film Coco, has earned commercial and critical success. It follows a twelve-year-old boy named Miguel who explores his family history while trying to chase his musical dreams, and ends up embarking on an amazing journey. While the characters are fascinating on their own, the actors who voice them imbue them with personality. This Coco cast round up proves that the film is full of talent.
In Coco, Miguel sought to learn how to play the guitar despite the fact that his family was deeply against music for personal reasons: Miguel's great-great-grandmother had been abandoned by her musician husband. Though Miguel tried to take part in a talent contest despite his family's distaste for music, his Abuelita destroyed his guitar; that sent Miguel on the mission that would set off the rest of his story. He decided to break into the mausoleum of Ernesto de la Cruz, the deceased musician he idolized, to take his guitar. However, once in the cemetery, it became clear that something magical had happened: Miguel seemed to cross over to the other side, where he came across his deceased relatives. That was only the start of Miguel's journey, however, as he went on to discover family secrets and right old wrongs.
Coco has been celebrated for its beautiful visuals and heartfelt emotional story, but its voice actors deserve praise too.
Anthony Gonzalez (Miguel)
Protagonist Miguel is voiced by Anthony Gonzalez in his feature film debut. Though he'd lent his voice and acting talents to shorts films and TV episodes before, this is his most major role so far. The young star's next project is the film Icebox.
Gael García Bernal (Héctor)
Héctor is a resident of the Land of the Dead whom Miguel has to help visit the Land of the Living because he's in danger of being forgotten. He's voiced by Gael García Bernal, who currently stars in Mozart in the Jungle but has tons of credits to his name. Next, he'll be starring as Zorro in the film Z, as well as appearing in The Kindergarten Teacher and Museo.
Benjamin Bratt (Ernesto de la Cruz)
Benjamin Bratt voices Miguel's idol, and he described the character best in an interview with ComingSoon.Net: "Ernesto de la Cruz is widely known as the most famous singer and musician in all of Mexico. He's dead now, and likely more popular in the Land of the Dead than he ever was in the Land of the Living, and he had international stardom before he met an untimely death."
Antonio Sol lent de la Cruz his singing voice. Bratt has been working for decades, but might be best known for his roles on Law & Order and in Miss Congeniality. He currents co-stars in Star.
Alanna Ubach (Mamá Imelda)
Mamá Imelda is Miguel's great-great-grandmother, and her voice actress Alanna Ubach is currently part of the cast of Girlfriend's Guide to Divorce. That's just the latest in over a hundred voice and acting credits, however, so odds are you've heard or seen Ubach in something before.
Renée Victor (Abuelita)
Miguel's Abuelita is strict about upholding the family's anti-music stance. Before Renée Victor voiced Abuelita, she appeared as Lupita on Weeds and Florina Lopez on ER. She's set to appear in The Green Ghost this year.
Jaime Camil (Papá)
Miguel's father is voiced by the actor who plays perhaps the best fictional father in existence (I accept no arguments here): Jaime Camil, known for stealing scenes as Rogelio de la Vega on Jane the Virgin week after week.
Sofía Espinosa (Mamá)
Miguel's mother is played by Sofía Espinosa, an Ariel Award-winning actress who won the honor for her starring role in the biopic Gloria, about Mexican singer Gloria Trevi.
Alfonso Arau (Papá Julio)
Miguel's great-grandfather Papá Julio is voiced by Mexican actor and director Alfonso Arau. He directed films like 1992's Like Water for Chocolate and 1995's A Walk in the Clouds, as well as the upcoming The Crime of Love. As an actor, he has appeared in both film and television, including Romancing the Stone and 2018's Malacopa.
Ana Ofelia Murguía (Mamá Coco)
Mamá Coco, Miguel's great-grandmother, gave the film its title. She was voiced by actress Ana Ofelia Murguía, who has been working steadily since the late 1960s. In the last few years, she appeared in Mozart in the Jungle and The Last Call.
The cast of Coco were talented enough to make their characters come alive, even when those characters had been dead for decades.
Check out Romper's new video series, Romper's Doula Diaries:
Watch full episodes of Romper's Doula Diaries on Facebook Watch.